Filter by Publication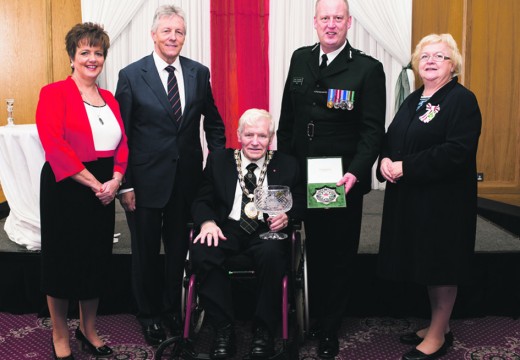 Castlereagh Borough Council conferred the prestigious Freedom of the Borough to the Police Service of Northern Ireland at a special ceremony held recently
 
The Freedom of the Borough, which is the highest accolade the Council can bestow, was awarded to the PSNI in recognition of their dedicated service in Castlereagh and throughout Northern Ireland over the last 12 years.
 
The event saw a total of 43 officers, of all ranks from various roles within the PSNI in C District, parade to the Council Civic and Administrative Offices for the official ceremony accompanied by the PSNI band.  Over 200 guests attended, including the Mayor of Castlereagh, Members of the Legislative Assembly, Member of Parliament for East Belfast, Chief Constable of the PSNI, family members of PSNI officers and a number of other dignitaries.
 
During the ceremony, the Chief Constable of the Police Service of Northern Ireland, Mr George Hamilton signed the register and was presented with a Certificate of Grant on behalf of the PSNI to formally acknowledge their status as Freemen of the Borough.  Specially commissioned Borough Medallions were also presented to each officer on parade to commemorate the occasion.
 
Chief Constable of the Police Service of Northern Ireland, George Hamilton, said, "It is a huge honour for me as Chief Constable to accept the conferral of the Freedom of Castlereagh from Castlereagh Borough Council, on behalf of the Police Service of Northern Ireland. I see this as recognition of the commitment and professionalism of not only the officers and staff serving to keep people safe in this borough, but of every member of the Police Service across Northern Ireland."
 
At the end of ceremony, Council representatives and dignitaries received the complimentary salute as the PSNI exercised their ancient right to parade as Freemen of the Borough of Castlereagh.
Pictured: Mayor of Castlereagh, Alderman Jack Beattie MBE and Chief Constable George Hamilton present official gifts alongside Vice Lord Lieutenant for County Down, Mrs Fionnuala Cook DL, OBE, First Minister, Rt Hon Peter D Robinson MLA and Acting Chief Executive of Castlereagh Borough Council, Mrs Joan McCoy.
Clients