Filter by Publication
Eden Project and Belfast City Council invite Belfast residents to join The Big Lunch 2019!
June 2019 - South Side Advertiser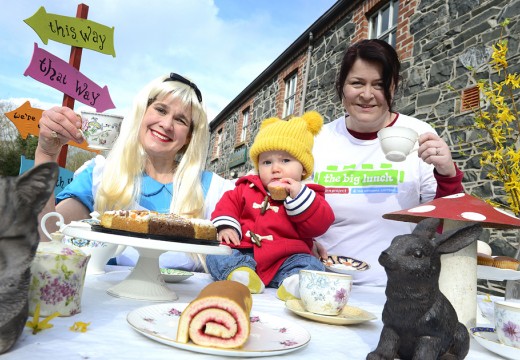 Belfast City Council and The Big Lunch have a Mad Hatter's tea Party to launch the Big Lunch 2019 in Northern Ireland. Belfast City Council will be putting on their own Big Lunch at Sir Thomas and Lady Dixon Park on Sunday 2 June, for any Belfast residents who don't have a one in their own community on the day,.  L-R are: Grainne McCloskey from The Big Lunch, Niamh Marley (8 months old) and Alice in Wonderland from Theatres without Walls.
57 Belfast communities have signed up for a free starter pack to join The Big Lunch 2019, among nearly 380 communities across Northern Ireland and thousands more in the UK and further afield. And more are joining every day.
Every year since 2009, millions of people across the UK have come together for The Big Lunch on the first weekend of June to celebrate community, positivity and friendship, over lunch and a cuppa. It is an initiative from the Eden Project made possible by the National Lottery to connect people and encourage friendlier, happier and safer neighbourhoods.
Among those already registered for The Big Lunch 2019 are neighbours, housing associations, community groups, businesses, universities and even councils. All it takes to get a Big Lunch started in your community is to register for a free pack and chat with some community members to get the ball rolling. 
Belfast City Council is a leading light for the Big Lunch this year. They are planning an Alice in Wonderland themed Big Lunch at Sir Thomas and Lady Dixon Park on Sunday 2nd of June. The 'Mad Hatter's Tea Party' will take place from 12.30-2.30pm. 
Lord Mayor of Belfast, Councillor Deirdre Hargey, said: "Since 2009, the Council has been involved in organising activities which support The Big Lunch. This is an annual initiative to bring communities together.  We know the happiness and community spirit that the event brings to neighbours and communities and it is vital that we continue to encourage and build on this each year. Why not pack your own picnic and enjoy our Mad Hatter's Tea Party at Sir Thomas and Lady Dixon Park on Sunday 2 June or local residents can get involved through setting up their own Big Lunch events on the first weekend of June."
In a recent poll of 4,000 people undertaken by The Big Lunch, over three quarters of all respondents in Northern Ireland (81%) felt that people are more disconnected from their neighbours than they were 20 years ago. Nearly 70% of the population don't feel they know their neighbours well. But in spite of this, 78% of the Northern Irish population think it is better for communities if we know our neighbours and 59% would say 'yes' if a neighbour invited them round for tea.
The Big Lunch is about inviting people to come out of the house and have lunch with their community just once a year, to make their community stronger and more connected for those times when strength is needed. This year the main dates are the 1st and 2nd of June, but your Big Lunch can be held at any time and place that suits.
In 2018, 4.5million people made new friends at their Big Lunch. Every year, people from all faiths, ages, ethnicities and backgrounds meet, make friends and stay in touch.  Join millions across the UK sharing food and fun on the first weekend in June. Get your free pack at www.thebiglunch.com  
Clients