Filter by Publication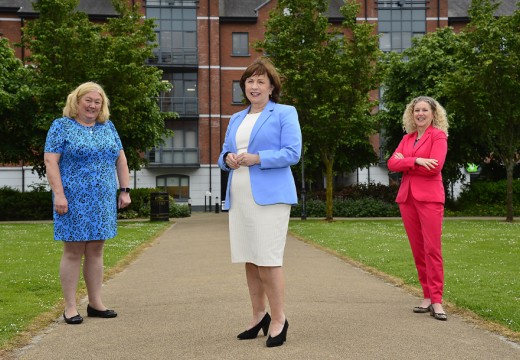 Multinational IT services provider Version 1 is creating 180 new, high quality jobs in its Belfast office, Economy Minister Diane Dodds announced recently.
Delivering IT consulting, solutions and managed services, Version 1 is investing more than £1million in its Belfast operations.
In addition, the Department for the Economy is funding a series of six Assured Skills Academies at Belfast Met, to the value of £821,000, with the aim of filling 120 of the jobs. The first Assured Skills Academy is open for applications now. Successful applicants will receive eight weeks of industry-relevant pre-employment training at Belfast Met.
Speaking about the investment, the Minister said: "This announcement of 180 new jobs by Version 1 is excellent news for the local economy and a further endorsement of Northern Ireland as a rising global player in the digital industries and an attractive location for inward investors.
"Version 1 provides IT services for a wide range of global brands, and to do so the company needs people with specialist skills. My Department's Assured Skills Academies have a track record of equipping participants with the skills employers need in order to flourish and grow, and this has been particularly true in the digital and tech fields. 
"Furthermore, participants on these Assured Skills Academies who complete the training are guaranteed an interview for a role with Version 1 and will be strongly positioned for success. The jobs on offer are high quality, well paid roles and I urge anyone who is interested and eligible to apply for these Assured Skills Academies at Belfast Met."
The Minister added: "In Northern Ireland's centenary year, as we look ahead to our future economic and skills landscape, this investment by Version 1 typifies the innovation and growth in emerging industry sectors that is a cornerstone of my 10X Economic Vision. I wish the company every success as it consolidates its presence in Northern Ireland and contributes to our future prosperity."
Participants in the Version 1 Assured Skills Academies will study areas including Microsoft Azure Fundamentals, MTA Software Development Fundamentals in C# and .Net, Cyber Security, Software Testing and Design Thinking with Belfast Met.
Experience is not required but applicants must hold at least a 2:2 degree in any discipline, or a level 5 qualification in an ICT or STEM Subject.  
Applications for the first Version 1 Assured Skills Academy are open now and close at noon on 30 June. Training for successful applicants will run from 9 August until 1 October.
For more information and to apply, visit: www.nidirect.gov.uk/assured-skills
Clients