Filter by Publication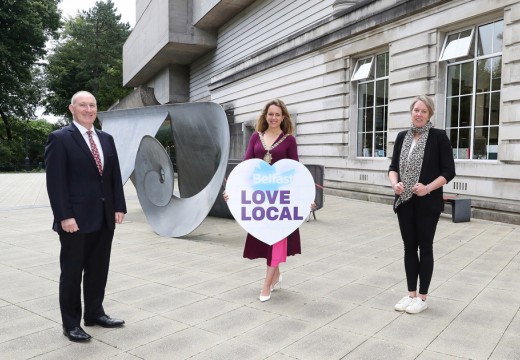 The Lord Mayor in partnership with Visit Belfast is committed to supporting "Love Local" during her time in office and is encouraging everyone in Belfast to do the same.
To help support the city's tourism sector as it recovers from the pandemic, Councillor Kate Nicholl is uncovering some of the city's off-the-beaten-track tourism products and experiencing some of Belfast's rich cultural gems, starting with the Ulster Museum where the Lord Mayor viewed the Willie Doherty WHERE exhibition.
Local visitors have always been an important year-round contributor of footfall and spend for tourism businesses. Now as the industry begins to recover from the effects of the pandemic and restrictions on international travel, the Lord Mayor is encouraging everyone to get out and explore the city for themselves.
Lord Mayor of Belfast Councillor Kate Nicholl said: "Tourism typically attracts millions of visitors to our city, with its world-class attractions, a thriving cultural sector, beautiful green spaces, excellent examples of built heritage, and fascinating stories to tell, but many of us take for granted the wealth of things to do on our doorsteps, so I am very excited to get out and see first-hand many of Belfast's local tourism experiences during my time as Lord Mayor."
Earlier this year, Visit Belfast launched its ambitious 'Rebuilding City Tourism 2021-24" strategy, setting out a new direction for travel and tourism promotion and illustrating the importance of working together and engaging with local businesses and communities to amplify the local experiences and stories unique to Belfast.
Kathryn Thomson, Chair of Visit Belfast and Chief Executive of National Museums Northern Ireland, said: "We're proud to launch Love Local at the Ulster Museum and be able to showcase our exciting new range of cultural experiences to the Lord Mayor, including the Willie Doherty WHERE exhibition. 
"Local people are the cornerstone of the museum and it has been extremely heartening to witness the scale of the support, appreciation and love that the public hold for this important cultural asset. Loving local is an ethos that benefits everyone and supports a resilient and sustainable visitor economy."  
Clients