Filter by Publication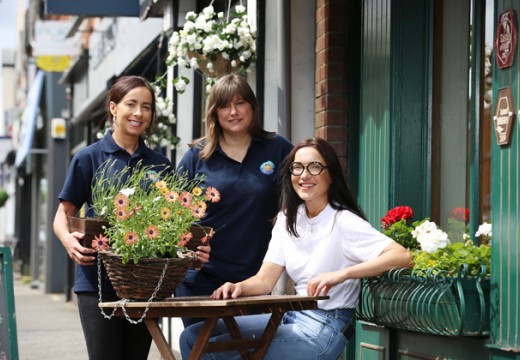 Jane Hodgers from Randals on the Lisburn Road join Lisa and Sara from the council's Parks' team to launch this year's Belfast in Bloom competition.
The annual 'Belfast in Bloom' competition, in its 25th year, celebrates budding gardeners, community groups, businesses and schools. This month entries are looking their best in preparation for judging! 
All you need is a garden, window sill or hanging basket. Run by Belfast City Council, the popular competition is open to individuals, groups and commercial premises and local schools. 

Local residents enter the individual category for 'Best Hanging Basket', 'Best Window Box' and 'Best Front Garden'. Community groups or organisations enter for 'Best Community Street', 'Best Community Group' and 'Best Community Garden'. 

Businesses in the city have entered the commercial category for 'Best Hotel', 'Best Public House', 'Best Restaurant', 'Best Commercial Street' and 'Best Commercial Premises'. While schools in Belfast have a category for 'Best Kept School Garden' in the north, south, east and west of the city. 

There is also an Allotment category for 'Best Individual Allotment' and 'Best Allotment Site' in Belfast. 

Councillor Michael Collins, Chair of Belfast City Council's People and Communities Committee, said: "The Belfast in Bloom competition has been running for 25 years and keeps growing in popularity. Hopefully this year's competition will attract even more entries from individuals, community groups, and schools making Belfast brighter and more beautiful. The competition is open to everyone and the benefits are so wide they ripple through the city from street to street," he added. 

More information on Belfast in Bloom is available at www.belfastcity.gov.uk/belfastinbloom 

Entries are now closed and judging takes place during August.  
Clients