Filter by Publication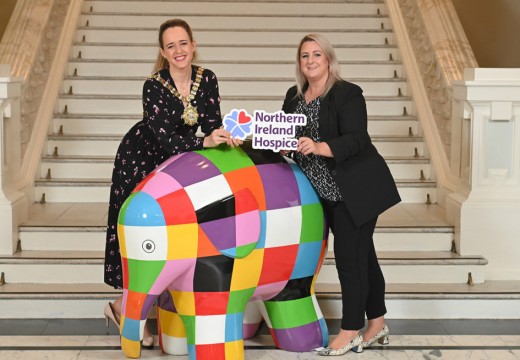 Belfast City Council is partnering with The Northern Ireland Hospice for the Big Belfast Elmer Art Trail which will have the city bursting with spectacular colour and art next year.
A collaboration between Northern Ireland Hospice, creative event producers Wild In Art and children's book publisher Andersen Press, will see a herd of 30 uniquely painted Elmer The Patchwork Elephant sculptures, inspired by David McKee's beloved children's book character, taking to the streets of Belfast next summer.
The art trail will mark the celebration of 21 years of Children's Hospice care at Horizon House. It's going to be Elephant-astic!
Belfast City Council is the first official Presenting Partner for 'Elmer's Big Belfast Art Trail'.
Elmer The Patchwork Elephant sculptures will be positioned around key landmarks, streets, and open spaces in Belfast, along with a herd of 'Young Elmer', designed by local schoolteachers and pupils, to bring to life an unforgettable jumbo event.
Each elephant will be painted by established or emerging local artists and will create a free art trail across Belfast for 10 weeks.
Elmer the Patchwork Elephant is one of the most iconic and widely read children's book series of all time, selling over 10 million copies worldwide since it was first published by Andersen Press in 1989. Written and illustrated by celebrated children's author and artist David McKee, the Elmer books have been translated into more than 60 languages.
Lauren Doherty, Head of Community Outreach & Marketing at Northern Ireland Hospice, welcomed the partnership with Belfast City Council, and said: "We're delighted to announce today that Belfast City Council will be our first official presenting partner. The Art Trail is so important for us at Hospice as it will help us raise much needed funding. But we also hope it will be important for the whole of Northern Ireland as it will be an absolutely unique event and one that will be free for all. Although next summer seems like a long time away, we will be going out to artists in the coming weeks to ask them to submit designs. We will be keeping everyone updated as we start to get ready '
Elmer's Big Belfast Trail will open on 27 June 2022. It is estimated the trail could generate up to at least 200,000 visitors to Belfast and Northern Ireland Hospice plans to take the Elmer's on tour to other cities and towns across Northern Ireland for special farewell events in September 2022.
The public art will eventually go to auction to raise vital funds for Northern Ireland Children's Hospice.
Clients