Filter by Publication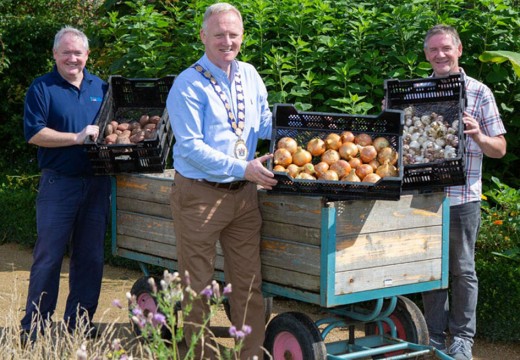 Vegetables grown in Bangor Castle's Walled Garden have been donated to two local foodbanks – Bangor Foodbank and Community Support as well as Newtownards Foodbank…
Vegetables grown in Bangor Castle's Walled Garden have been donated to two local foodbanks – Bangor Foodbank and Community Support as well as Newtownards Foodbank – ensuring that those in need will benefit from the Garden's delicious produce.
 
The Walled Garden is one of the most popular attractions in the Borough. Designed during the 1840s, it was officially opened to the public in 2009 and visitors enjoy the peace and tranquillity of the Council's meticulously maintained gardens on a daily basis.
 
Produce grown in the Garden is usually sold in North Down Museum and the funds raised are donated to the Mayor's supported charities. However, due to the ongoing pandemic, it was not possible to sell the vegetables this year. Instead, the produce has been donated to the foodbanks that the Mayor is supporting during his term.
 
The Mayor of Ards and North Down, Councillor Trevor Cummings, said:
 
"The Council's gardening team always do a tremendous job in maintaining the Walled Garden and they have ensured that the vegetables flourished under very challenging circumstances this year. Both of the foodbanks are among my supported charities and have provided a tremendous service to the public during the pandemic."
 
Bangor Foodbank and Community Support (BFCS) was launched in 2012 and is a member of the Trussell Trust network of foodbanks. Supported by a network of businesses, churches and individuals, BFCS has provided a daily safety net for at-risk families, the elderly and individuals in North Down for almost eight years.
 
The Newtownards Foodbank opened in 2011 and was the first Trussell Trust Foodbank in Northern Ireland. It has served the community in Newtownards and the surrounding borough by supplying emergency food parcels and support to local people.
 
Due to the pandemic, many of the Mayor's charity events are unable to take place. However, if you wish to make a donation to the charities, contact the Mayor's office on 0300 013 3333 or email the Mayor's Office.
Clients