Filter by Publication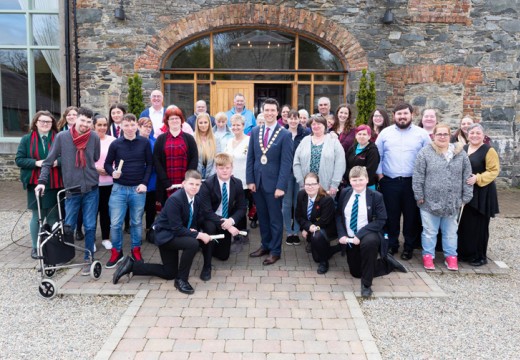 The Mayor of Ards and North Down, Councillor Richard Smart, pictured with an army of volunteers at Clandeboye Estate.
Ards and North Down Borough Council's Community Development Team organised a special event in Clandeboye Estate recently to recognise the incredible contribution that volunteers make to the Borough.
Volunteers are at the heart of our community and provide support to many local initiatives including the Borough's popular Summer Schemes, Special Needs Disco and through a variety of Community Development Clubs.
The Mayor of Ards and North Down, Councillor Richard Smart, showed his appreciation for the huge amount of commitment of time and energy that volunteers give up for the benefit of the community at a special celebration event in Clandeboye Estate.
"On behalf of the Council, I want to say a very heartfelt thank you to all volunteers," Councillor Smart said at the ceremony. "The Council really embraces, supports and values the contribution of volunteers. The amount of time and energy that they give up freely for the benefit of others is astounding."
"I am always amazed at the level of volunteering activity which happens on a daily basis across the Borough and in a wide spectrum of work. My amazement is accompanied by a feeling of great admiration for those who give up their time so selflessly for the good of others and the good of their communities."
Volunteers have been pivotal in the transformation of the Borough's clubs and summer schemes. Thanks to partnerships with Millisle Youth Forum, Ballyphilip Youth Club, Breezemount Community Association and Kilcooley Women's Centre, the summer schemes were delivered in four new areas in 2018.
"There were a total of 50 volunteers across all nine centres for our summer schemes," Councillor Smart said. "The Recycling Community Investment Fund has enriched the club programme with the introduction of Eco Champions as well as the usual high-quality play opportunities. There are six junior volunteers at the play clubs and four adult volunteers at the Special Needs Disco."
He added, "A huge thank you goes to everyone whose selfless dedication has made these activities so successful."
Clients