Filter by Publication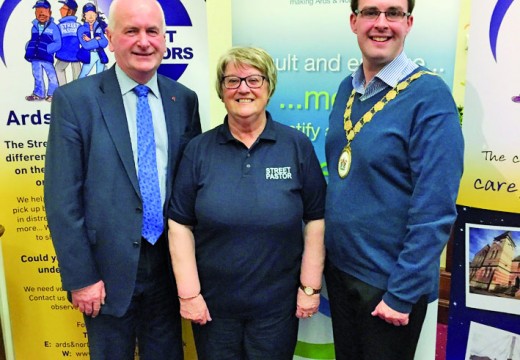 Marilyn Toogood with Mayor Cllr Robert Adair and North Down MLA Gordon Dunne
This newest scheme which is part of a large network of groups that operate across the UK and Worldwide is made up of trained volunteers from local churches. Holywood Street Pastors was formally launched and commissioned on Saturday 18th November at a service in High Street Presbyterian Church Holywood.
The work of Street Pastorsinvolves volunteers going out at weekends to care, listen and help the vulnerable on our Streets, Parks and the Coastal Path etc., and to play an active part in strengthening the local community.
The PSNI, PCSP and Ards & North Down Borough Council all support this great work and at Saturday evening's service which was attended by Mayor Councillor Robert Adair, Jim Shannon MP, Gordon Dunne MLA, PSNI Chief Inspector Gerry McGrath, PCSP Alan McCay and many other local people, Pam Wiliamson, Co-ordinator for Ards & North Down Street Pastors thanked everyone for attending and lending their support to this worthwhile project.
North Down DUP MLA Gordon Dunne added: 'I am delighted to support this excellent initiative and feel that the Street Pastors have a very valuable role to play in making a difference within the local community and I trust that they will continue this good work and make a real positive contribution on our streets and helping those in need.'
If you would like to learn more or get involved in the work of the Holywood Street Pastors, please contact 07483 807267 or email ards&northdown@streetpastors.org.uk or on Facebook and Twitter.
Clients