Filter by Publication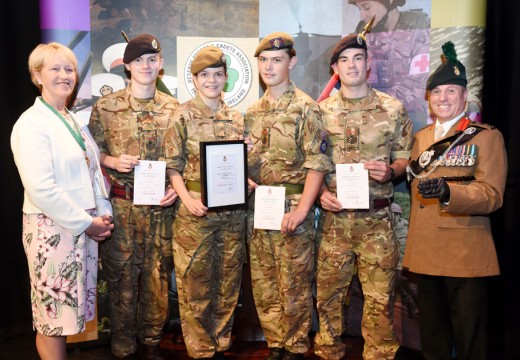 For the Bangor Detachment Army Cadet Force there was a sheaf of awards, as High Sheriff of Antrim Gillian Bingham (left), watched by Colonel Sam McCammond (right) presented awards to (from left) Cadet Staff Sergeant Jacques Tohill (4 Star Awards), Cadet Sergeant Major Holly McAlpine (Master Cadet), Cadet Sergeant Major Joseph Nickell and Cadet Staff Sergeant Jay Thompson, both who received 4 Star Awards.
North Down Cadets have turned in star performances to earn prestigious certificates of achievement, presented recently by Gillian Bingham, High Sheriff of County Antrim.
In addition to three talented teens earning Cadet 4 Star Awards, conferred in recognition of outstanding achievement and commitment within the Cadet movement, Cadet Sergeant Major Holly McAlpine from Bangor became a 'Master Cadet'. The Master Cadet Course is designed to broaden and develop further the leadership, instructional and administrative responsibilities of those who have already attained 4-star awards, helping them to make better use of their abilities.
Congratulating the young people, Colonel Sam McCammond, Commandant of the 2nd (NI) Battalion Army Cadet Force, said, "We are delighted to see the enthusiasm and commitment of our Cadets recognized with the achievement of these latest accolades. We are enormously proud of them and, indeed, they are each a credit not only to their Detachments, but also to their families, schools and the wider community.
"At a time when society tends to be quick to find fault with the younger generation, these young people are demonstrating great qualities and it is an absolute pleasure to see them reap the rewards of their hard work and sense of purpose. 
"The Cadet movement famously offers its members great fun and camaraderie but, as these youthful high achievers demonstrate, it also opens the door for significant personal development.  The awards which Cadets from Holywood and Bangor collect today celebrate their progress and give our Cadets something truly significant to put on their Personal Statements as they prepare for college or apply for their first jobs. I congratulate them – and the Adult Leaders who inspire and instruct them."
Clients