Filter by Publication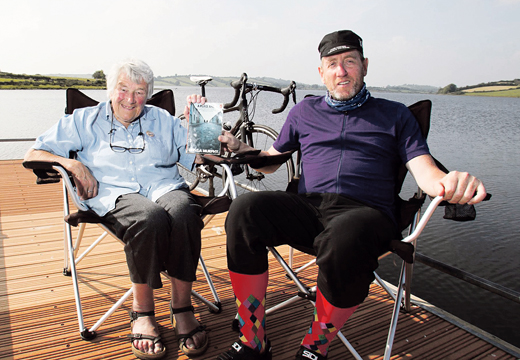 Michael Smiley at Aspects.
On Saturday 27 September, Michael Smiley the award-winning actor and comedian from Holywood made a very special appearance at the Aspects Literature Festival. Having recently pedalled his bicycle around Ireland recalling funny stories from the past and meeting other enthusiasts and characters from his BBC NI series 'Something To Ride Home About.'
For Aspects audiences, Michael read from 'A Place Apart' by travel writer and cyclist Dervla Murphy. Michael also engaged in conversation with BBC NI's Joe Lindsay recounting stories about some of the characters he met on his journeys during Series One of 'Something To Ride Home About'. Joining him onstage were acclaimed local photographer and cyclist Bill Kirk and the famed Belfast Bicycle Workshop owner Austin Brown.
Actor, writer and comedian Michael Smiley is well known for this 2011 role as a hit man Gal in Ben Wheatley's ' Kill List' and cycle courier Tyres, in cult TV series ' Spaced.' Other roles include the devilish O'Neill in 'A Field In England,' computer expert Benny in BBC1's 'Luther,' George Lusk in the BBC's 'Ripper Street', Baxter in Channel 4's 'Black Mirror's White Bear' and most recently he was on our screens as Colonel Morgan Blue in Dr Who.
A successful stand-up for 20 years, Michael was an award-winning international headliner, and his trilogy of self-penned one man plays brought him acclaim at the Edinburgh Fringe. His play,' The Immigrant,' premiered at the Cathedral Quarter Arts Festival in Belfast in May 2012. His BBC series, 'Something to Ride Home About,' about him cycling around his native Northern Ireland, screened in 2014.
In 2014, he will be appearing as Reynolds with Jude Law and Ben Mendelsohn in Kevin McDonald's' Black Sea' and as Shannon alongside Stephen Graham in David Leon's 'Orthodox.'
Now in its 23rd year, this year's Aspects programme had something for everyone. Other festival highlights included; Falkland's War Veteran Simon Weston OBE in conversation with Gerry Kelly, Sheena Wilkinson reading from the collection of short stories 'The Great War,' Paolo Hewitt in conversation with celebrity hairdresser Paul Stafford, broadcaster Martin Bell in conversation with Gerry Kelly and so much more!
Pictured - Actor and comedian Michael Smiley enjoying some time out with cyclist and author Dervla Murphy.
Clients