Filter by Publication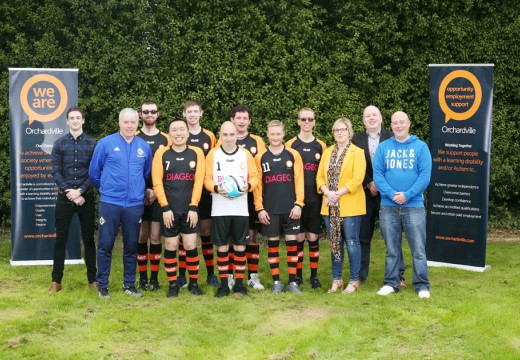 Pictured at the launch of Orchardville DFC (Disability Football Club) are (back row l-r) Michael McShane, Orchardville DFC Team Manager; players Connor Robinson, Bangor; Shane McConnell, Bangor; Chris Davis, Bangor; Bobby McAllister, Bangor; Rory Cowan, Diageo NI; and (front row l-r) Mal Donaghy, Schools Officer, IFA; Nathan Cheng, East Belfast; Gary Ackerman, Bangor; Craig Cook, Bangor (team captain); Joan McGinn, chief executive, Orchardville; and Graham Rankin, Orchardville DFC Head Coach.
Orchardville DFC (Disability Football Club), the first ever football team of local charity Orchardville, will be playing in this year's 2018/19 IFA Disability league. Sponsored by Diageo NI, the team is made up of Orchardville service users from Belfast, Bangor and Lisburn, who are aged 18 or over.
Orchardville charity, which supports people with learning disabilities and/or autism, were encouraged to create a team after a group of service users competed in last year's George Best Community Cup and came third.
Joan McGinn, chief executive, Orchardville discusses: "We are thrilled to be playing in the 2018/19 IFA Disability league.  Involvement in the league will bring so many benefits to our service users – increased physical and mental wellbeing, an opportunity to develop team working skills, increased confidence, competitiveness and of course fun!
"I would like to thank our staff, especially Michael McShane, our team manager, who is being ably assisted by Graham Rankin and of course those volunteering at training and matches – we couldn't do this without them. Also, a special word of thanks to our charity partner, Diageo, for sponsoring our team kit and to the IFA for all their support. 
"Finally, thanks to our team for their dedication and enthusiasm – we wish you every success in the league."
Matches will be held once a month and football training will take place once a week. 
Michael McShane, Orchardville DFC Team Manager, explains how football is set to enhance service users experiences, 
"Orchardville DFC is a wonderful opportunity for our service users to get involved in and experience the benefits of football. Our newly formed football programme will complement Orchardville's other available services in enriching the lives of those involved.
"We will be proudly competing in the 2018-19 disability football pathway where we will challenge ourselves against established sports teams from across Northern Ireland."
Explaining the importance of developing football networks for everyone Alan Crooks, IFA Development Manager, Disability Football says: "The Irish Football Association are delighted to support Orchardville in the creation and development of a football programme for their clients. Such programmes are vitally important for those with a learning disability. Football opens up positive avenues for fitness, development, comradery and ultimately enjoyment."
For any football team, their kit is vital and for Orchardville DFC their team kit has been sponsored by Diageo NI. 
Jorge Lopes, Country Director at Diageo NI, wishes the team good luck as they prepare for the 2018/19 IFA Disability league; 
"Orchardville is the dedicated charity partner of Diageo Northern Ireland and we are now very proud sponsors of the charity's football team.  This is just one of the many ways that we lend our support to Orchardville and, in doing so, make a tangible difference to all involved. We wish Orchardville DFC the very best of luck in all their future matches."
Orchardville is also seeking to recruit volunteers to help with the football training. To find out more about Orchardville or to enquire about becoming a volunteer please check out www.orchardville.com
Orchardville is a charity which supports people with learning disabilities and/or autism, promoting empowerment and independence. It enables the development of life skills that are transferable into employment and life in general.  
The charity, which has offices in East Belfast, Bangor, Lisburn and Derry, provides accredited training and skills development. These include occupational and vocational skills, wellbeing support, skills for life and work, OCN (Open College Network) accredited training, school transitions services and work placements.
Clients