Filter by Publication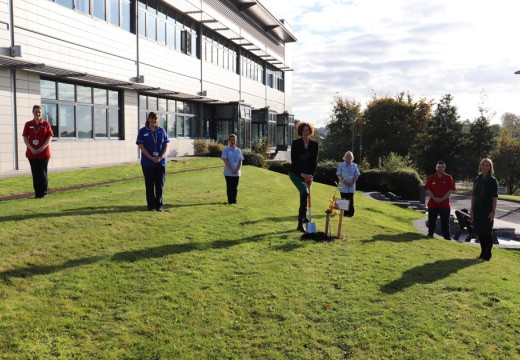 Back in 2018, Ards and North Down Borough Council awarded the Freedom of the Borough to Health & Social Care staff and at that time the Council gifted an oak sapling to staff who attended their reception event in the Walled Garden in Castle Park in Bangor.
Nicki Patterson, the Director of Nursing, had kept and nurtured her sapling since then and when it came to 2020, the first ever global International Year of the Nurse & the Midwife, it seemed an appropriate tribute to plant the tree in the grounds of the UIster Hospital in recognition of the contribution of all nurses and midwives and to honour this special year. Oak trees have also been planted on the Downe and Lagan Valley hospital sites to mark this event in recognition of all nurses and midwives.
Nurses and midwives make up the largest numbers of the NHS workforce and are highly skilled, multi-faceted professionals from a host of backgrounds that represent our diverse communities. 2020 is a time to reflect on these skills, the commitment, compassion and expert clinical care they bring and the impact they make on the lives of so many. This year is also an opportunity to say thank you to the profession, to showcase their diverse talents and expertise and to promote nursing and midwifery as careers. The courageous work of nurses, midwives and other healthcare workers in the face of coronavirus does honour to the Year of the Nurse and Midwife 2020.
#Proudofourstaff
Clients