Filter by Publication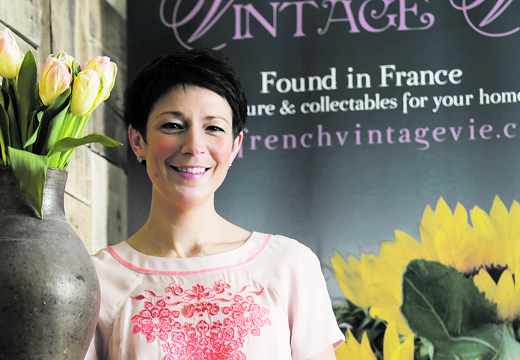 A new small business, French Vintage Vie, is adding some chic French style to Irish homes by sourcing original antique furniture and vintage home decor from France and shipping it to Ireland.
Founder Louise Scott from Bangor, North Down, opened a French Vintage Vie pop up shop earlier this year in Belfast and due to its popularity she has since been on a number of buying trips to Toulouse, Paris, Beziers, Avignon and L'Isle sur la Sorgue with a customer shopping list.
All of the items are hand-picked by Louise at antique fairs, brocantes and flea markets across France. Louise said, "Sourcing by hand means that my customers end up with a piece which is authentically French, has a story to tell and is truly unique. So many people are looking for something different these days, a few one-off antique or vintage pieces that they can mix with their contemporary furnishings to give their interiors an edge".
The style of the French furnishings and collectables appeals to vintage lovers, antique enthusiasts and Francophiles alike! French Vintage Vie can also source for business customers including interior designers, hotels, restaurants, bars and unusual venues.
Louise's idea for the business was born out of frustration of being unable to bring French furniture home to Ireland from holidays there, she says, "A beautiful armchair just doesn't fit in your suitcase! My love of France and all things French and my passion for home interiors meant that this was the perfect new business idea for me. The small city centre showroom allows people to browse the type of items that are available and if they don't see what they are looking for, I source it for them on my trips....abit like having a personal shopper in France! The website also offers the opportunity to buy online".
Further details can be found at www.frenchvintagevie.com
Pictured - Louise Scott from Bangor, Founder of French Vintage Vie has recently opened a new showroom in Belfast city centre stocking antique furniture and vintage home decor and collectables from France.
Clients