Filter by Publication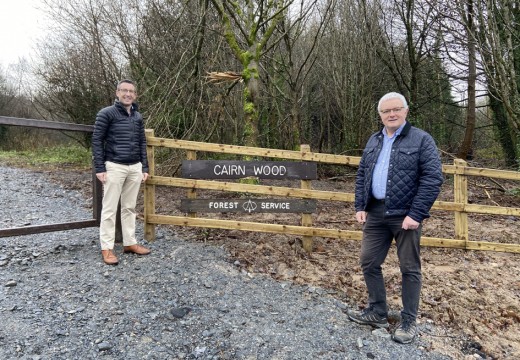 Andrew Muir MLA and Councillor Martin McRandal at Cairn Wood
Alliance MLA Andrew Muir and Councillor Martin McRandal have welcomed news Ards and North Down Council plan to develop two more new trails around popular Cairn Wood Forest located in the Craigantlet Hills between Bangor, Belfast, Holywood and Newtownards.
The Forest was saved from sale in 2016 following a sustained campaign involving a nearly 3,000 strong petition instigated by Andrew Muir MLA and is now under the full ownership of the Forest Service with Ards and North Down Borough Council responsible for maintenance and upkeep.
Two trails presently being completed are the Ballysallagh Trail: a category 1 multi-use trail – all ability, walking and family cycling trail (approx. 1.8km) and the Woodland Trail: a category 2 multi-use trail – walking and family cycling (approx. 3.7km). Two new trails to be constructed by March 2022 are the Quarry trail: category 3/4 walking trail (approx 4km) and Boundary trail: category 3/4 walking trail (approx 5km).
Commenting on the development, Andrew Muir MLA stated "After facing sale to the highest bidder just a few years ago it's great to see the Forest now going from strength to strength firmly in public hands and new trails recently constructed proving extremely popular. The newly resurfaced car park and new well-liked coffee truck are further great additions attracting visitors keen to enjoy a real jewel in North Down's crown. I've been out running around Cairn Wood's new trails in recent weeks and it truly feels like another world has been opened up to enjoy.
It is however disappointing that the Electric Vehicle Charge Point has yet to materialise, something I have been pushing for generally as we look to a net zero future and need to encourage more uptake of eCars. I hope Council can prioritise this initiative alongside Department for Infrastructure taking action on much needed speed review on the nearby Craigantlet Road. With vehicles travelling past sometimes at over 60 mph swift action needs to be taken to ensure safe access and exit from the car park."
Also remarking on the good news new trails are to be built, Councillor Martin McRandal commented "As a keen walker it's been great to enjoy Cairn Wood and the new sights and sounds available via the new trails. I am continuing to push for erection of a fence between the Car Park and Road after a dog was tragically killed on the road and would urge everyone to stick to the Leave no Trace policy with regards to litter to ensure the park remains beautiful and litter free. From my litter picking work around the Borough I know only too well impact of people leave litter behind. With many bins at the entrance of Cairn Wood there's no excuse why we can't all bin our rubbish and keep the forest clean".
Clients