Filter by Publication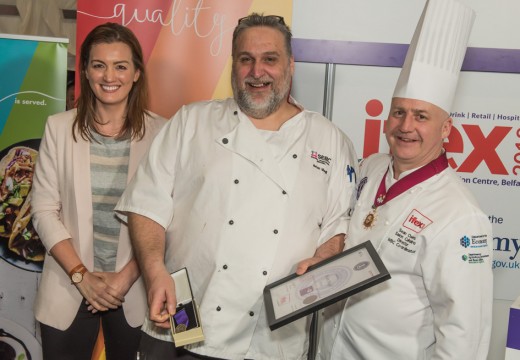 SERC tutor Brian Magill won a bronze medal in the Caloriewise competition at IFEX Chef Skills 2018.
A team of hospitality and catering students from the Bangor Campus of South Eastern Regional College (SERC) are celebrating after winning a host of medals and awards at the prestigious hospitality trade show, IFEX Chef Skills 2018, which took place at the Titanic Exhibition Centre Belfast.
Local students from SERC's school of hospitality, management, tourism and languages took part in the grilling three-day competition which featured students from the College's full and part-time professional cookery, catering and hospitality courses.
The IFEX exhibition is Northern Ireland's premier showcase of the latest food and drink products, catering equipment, interiors, technology and services to the food, retail and hospitality industries.
The students took part in a variety of competitions at the show and impressed judges with their technical skills and creativity to walk away with multiple gold, silver, bronze and merit awards.
Bangor man Loan Lonut Largeanu who studies the Level 3 apprenticeship in Professional Cookery, competed in the Student Culinarian of the Year competition and impressed judges to take home a bronze medal.
Bangor local Jake McKenna from the culinary skills course was also celebrating when he won a bronze medal in the Vegan challenge while classmate Christina McBratney received a certificate of participation in the Junior Chicken category.
Meanwhile in the Tony Hughes Memorial Cook Serve, student chefs Matthew Ballantine, Adam Brown and Bryan Sarmiento took home a silver award.
Certificate of merits were also dished out to 20-year-old apprentice chef Daniel Rainey from Bangor who competed in the NI Chef of the Year challenge and the Junior Duck challenge. 17-year-old professional cookery student Brooke Allen was also awarded a certificate of merit in the larder skills and contemporary dessert competitions.
Paul Mercer deputy head of school at SERC said: "The students represented themselves, their families and the college really well. They are very capable students who have shown a real passion for the food and hospitality industry. Winning medals in such a high profile, prestigious event is a fantastic achievement. The students were up against some of the best in the industry.  This competition is just the beginning of a brilliant career for them." 
Meanwhile, tutors Tom McCluney and Brian Magill set an excellent example for the students when they walked away with bronze medals in the NI Bake Off and Caloriewise competitions respectively.
SERC Principal and Chief Executive Ken Webb commented; "The competition was an excellent opportunity for our students to demonstrate the high level of skills they have learnt during their studies.
"For students and staff to compete so successfully, to such a high standard, is outstanding. This level of success illustrates the quality of education and training on offer within SERC and showcases how talented our students really are."
Clients