Filter by Publication
Life on the High Seas for Students on Northern Ireland's first Marine Engineering Course
June 2019 - The North Down Advertiser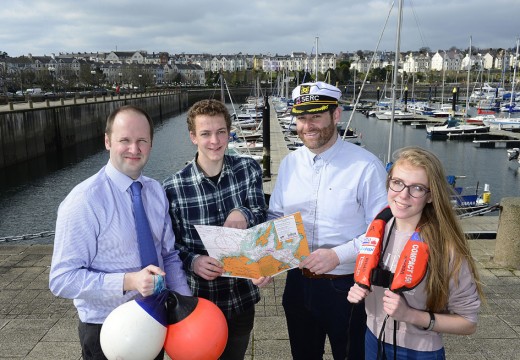 Trevor Breadon (left), Head of School, Engineering and Computing at South Eastern Regional College and James Cully, Deputy Head of School, announce the launch of a new Level 2 Marine Pre-cadetship (engineering pathway) programme on course for Northern Ireland shores for the first time this September.   Initially offered at SERC Bangor Campus, the course is intended for those seeking an engineering career in the maritime industry. Pictured with Level 3 Engineering students, Joshua Galbraith and Hannah Dunwoody.
South Eastern Regional College (SERC) is offering a new marine engineering programme in conjunction with South Shields Marine School.  The Level 2 Marine Pre-cadetship (Engineering Pathway) is intended for those seeking an engineering career in the maritime industry.
Trevor Breadon, Head of School, Computing and Engineering at SERC said,
"Our engineering expertise at SERC is a perfect match for South Shields Marine School, a world-renowned centre of excellence for marine education.   We are delighted to be working together to be able to offer this exciting new course in Northern Ireland. The programme is due to commence in September 2019, initially at our Bangor Campus, and is likely to be of interest to anyone with a career with the merchant navy, cruise liners or the fishing industry.
"The course contains a mix of theory and practical tasks related to the maritime sector.   Modules include preparing and using lathes, producing sheet metal components, engineering techniques and principles through to personal safety and social responsibilities in the maritime industry and elementary first aid.   In addition, there will be an opportunity to complete a short cruise as part of the learning on the programme.
He added, "On completion of the course, students may progress to employment in the maritime industry or continue their education at the next level at South Shields Marine School or through a choice of Engineering programmes at the College."
For further information visit  http://bit.ly/SERCMarineEngineering Apply now for full-time courses commencing September 2019. For more information visit www.serc.ac.uk or call 0345 600 7555.   Find us on Facebook, search SERC.
Clients