Filter by Publication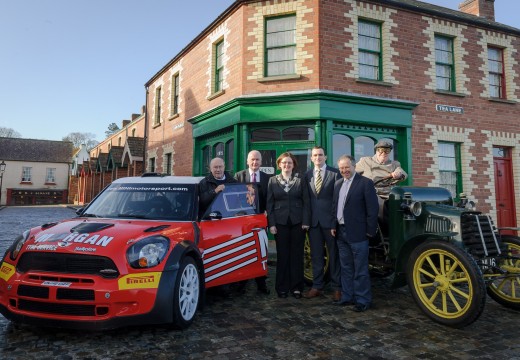 Top Circuit of Ireland Rally competitors will converge at Ballycultra Village in the Ulster Folk & Transport Museum on Thursday 17 April from 11:00 for the official Qualifying Stage of this year's Circuit of Ireland, the first pure asphalt Rally on the FIA European Rally Championship calendar and a counting round of the new-for-2014 FIA ERC Junior Championship.
Hosted by North Down Borough Council and facilitated by the award winning Folk Museum which this year celebrates its 50th anniversary, the Qualifying Stage will see designated priority drivers take part in a special closed road stage nearby, to determine the official starting order on the first competitive day of rallying the following day.
Priority crews, who are selected by event and championship officials according to their previous performances and international seeding, will undertake two runs of Free Practice from 11:00 before the Qualifying Stage gets underway at 13:03. Measuring 4.15 kilometres in length the qualifying stage will be held within the Holywood Hills area.
The fastest driver will win the ability to be the first to select their preferred starting position for day one, with the second fastest driver next to choose and so on until all priority drivers have made their choice. The official selections will take place as part of the Ceremonial Start at Belfast City Hall that evening (Thursday April 17). Crews competing without priority status can avail of the venue for shakedown from 13:45- 16:00 to finalise their car set-up for the following day's action.
Taking centre stage at the launch and linking the past into the present was one of the Museum's oldest exhibits – a unique MMC 10 hp classic car dating back to 1903 - alongside Northern Ireland Rally Champion Derek McGarrity's newly acquired ex Dani Sordo and Chris Atkinson 01B Mini.
Joining North Down Deputy Mayor, Cllr Jennifer Gilmour, MLA Gordon Dunne and Cllr Stephen Dunne at the special Qualifying Stage event launch was the 1964 Circuit of Ireland winning co-driver Terry Harryman who clinched victory in a mini cooper with driver Ronnie McCartney.
Event Director, Bobby Willis paid tribute to North Down Borough Council for their support and contribution and also thanked local MLA Gordon Dunne and his son Stephen, a Borough Council member who were both instrumental in setting up the Museum based Qualifying Stage.
Organisers are in the process of finalising arrangements for what promises to be a bumper week-end of motorsport and the management team are calling for additional volunteers to join the existing team of marshals. For more details and to register log onto www.circuitofireland.net or call the volunteer hotline 07732 612261.
Clients