Filter by Publication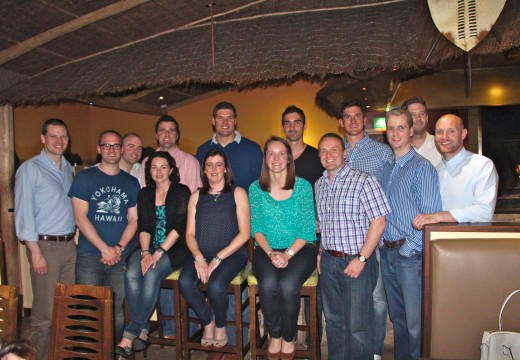 Grosvenor Grammar School 'Eat Up for the Ulstermen' Rugby and Hockey Tour Fundraiser
On the evening of Tuesday 6th May Grosvenor Grammar School welcomed over two hundred parents, former pupils and associates of the School to the highly acclaimed South African-themed 'Makhulu 5' restaurant in Bangor, as part of the fundraising preparations for its planned rugby and hockey tour to South Africa in the summer of 2016.
The event, entitled 'Eat up for the Ulstermen', saw three members of Ulster Rugby's South African contingent, namely Johann Muller, Robbie Diack and Ruan Pienaar, attend and each answer a variety of questions at the climax of the evening.
The event saw those present feast on traditional "braai" style South African food such as ribs, wings, vors (sausage) and pulled pork, and marked the perfect way to launch the School's much-anticipated 2016 tour to R.S.A. The School will continue to stage a number of fundraising initiatives over the next two years as it prepares for the tour's departure in July 2016 but is extremely grateful to messrs Muller, Pienaar and Diack for both their
attendance on the evening as well as the wise and informative words offered by them; all in attendance were certainly left highly impressed by the grace, charm and humility displayed by Grosvenor's three guests on the night.
Particular praise is also due to Mr Andrew Gibson, a P.E. teacher within Grosvenor and Tour Manager for the planned 2016 tour, whose diligent planning and careful organization of the event helped to make it such an overwhelming success.
All within the School now look forward to further fundraising initiatives between now and July 2016.
Clients