Filter by Publication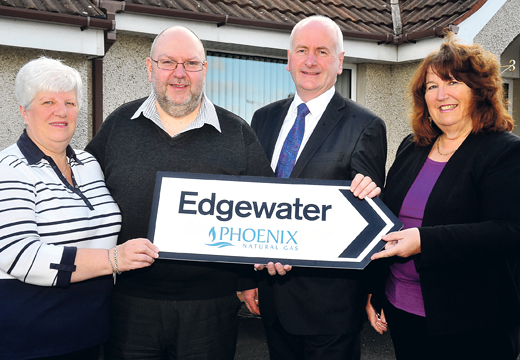 Phoenix Natural Gas were able to confirm that homeowners living in the Edgewater Development in Donaghadee are the latest properties to have natural gas made available to them.
The company already has made natural gas available to over 300,000 properties in Greater Belfast and the majority of these are now using natural gas.
Edgewater was built in the 90's and now their boilers are ready for replacement it is an ideal time to make the change to a new high efficiency heating system.
Elma Kilpatrick of Edgewater Cove has been one of the first people to get her house connected to natural gas. She said: "Our old oil boiler was in desperate need of repair so we were very pleased with the timing of this announcement from Phoenix. The process of getting it in was relatively smooth and we were able to use a local gas installer to do the necessary set-up work in the house."
Phoenix Natural Gas makes gas available throughout North Down, and the company says there are relatively high levels of availability across Bangor, Holywood, Donaghadee and Groomsport. Eva Mitchell, Phoenix Energy Advisor for the area said: "We are continuing to extend our gas network and to make gas available to more and more properties. We have found that as more customers get experience using the fuel, they simply love the benefits that it gives them. "
Local Assemblyman Gordon Dunne MLA has been right behind the uptake of gas. He reflected: "I am delighted that natural gas is now available for the many residents within the popular Edgewater area of Donaghadee and I welcome the investment by Phoenix on this matter. I am well aware of the benefits of natural gas for households through my work on the Assembly's Enterprise, Trade and Investment Committee and welcome the potential economic and social benefits that it brings. I would encourage homeowners to explore this option as a means of getting more competitive energy prices through an efficient energy source."
Pictured - Mr & Mrs Kilpatrick with Gordon Dunne MLA and Eva Mitchell (Phoenix).
Clients