Filter by Publication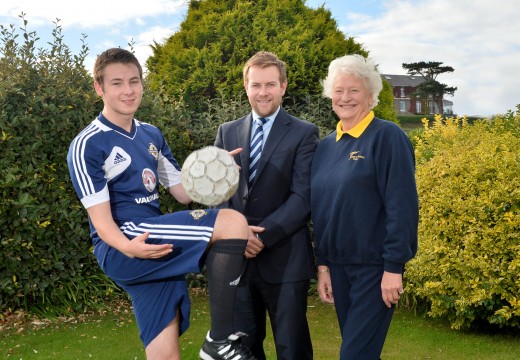 A young footballer who is tipped for future Paralympic success has been awarded a Rainbow Communications Sports Award in partnership with the Mary Peters Trust.
19-year-old Stephen Halpin from Groomsport received the funding from Northern Ireland's largest independent business telecoms company to help him train with the Northern Ireland Cerebral Palsy squad.
The team has climbed to 15th in the World Rankings after a successful Inter-Continental Cup in Spain this summer.
Stephen, who is studying a degree in Sports Studies at University of Ulster, Jordanstown, said he has been training with the team for eight years:
"I've been a keen footballer since I was a small child, always playing throughout school, and I joined the NI CP Development Squad in 2005, when the Irish Football Association began to concentrate on Disability Football.
"I love being part of a group and find that, in a football team, there is good team camaraderie and it is great to share success with others.
"In my day to day life I am a very competitive individual and playing football gives me an enjoyable way to challenge this.
"I am very grateful for the funding from Mary Peters Trust and Rainbow Communications as it will cover the expensive travel costs to and from training and essential kit.
"The next big competition we are preparing for is the European Championships in Portugal in July 2014, and if we do well in this competition, we will qualify for the World Championships.
"My dream is to be selected to represent Team GB at the Paralympics in Rio 2016 and I will work extremely hard to be considered."
A monthly candidate is chosen for the Rainbow Communications Sports Award in partnership with the Mary Peters Trust.
The Northern Ireland Cerebral Palsy squad programme is open to males aged 7 and over who have Cerebral Palsy or have limitations in mobility as a result of a brain injury or stroke.
To find about how you can apply for the award visit www.marypeterstrust.org.
Rainbow Communications provides calls and lines, mobiles, broadband, systems, cloud telephony, IT services, data and more to over 5,000 businesses throughout the UK and Ireland.
For more information on Rainbow Communications services, visit www.rainbowcomms.com
Clients