Filter by Publication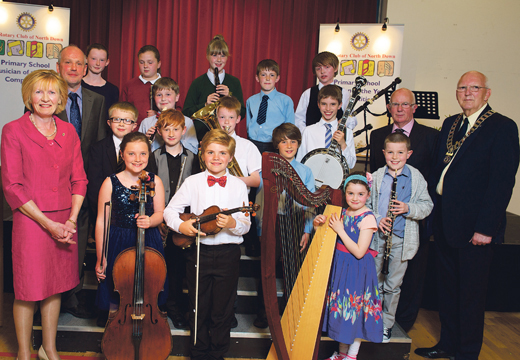 The Rotary Club of North Down is delighted to announce that the winner of the Primary Musician of the Year Competition 2014 is Jake Houston of Fourtowns Primary School in Ahoghill.
A very close runner-up was Robert Henderson of Hollybush Primary School in Culmore playing the recorder and cellist Caoilin Olphert of Carniny Primary School, Ballymena came third.
A total of ninety children from across Northern Ireland entered for the competition and, following a series of heats adjudicated by Mr Billy Cairns, fifteen finalists were selected.
The Finals Night of the Competition was held in Towerview Primary School, Bangor on 23 May and the Finals Adjuducator, Robin Hewitt said that he had been entranced by the performances that he had heard and picking a winner was extremely difficult. In fact only a single mark separated Jake and Robert. Jake's performance on the flute of a difficult Poulanc piece was particularly praised but Mr Hewitt also drew attention to the very sensitive interpretation of the music in his pieces that Robert had displayed.
Lady Sylvia Hermon MP spoke of her amazement this year again at the incredible standard of musicianship shown by such young children. One of the finalists, Paige McDonald of St. Joseph's Primary School, Newry was only 7 years old and had played two beautiful pieces on the harp. She thanked Robin Hewitt for his excellent work as adjudicator in putting the competitors at their ease as well as the accompanists who had played so well. Finally she drew attention to all of the support and work put in by parents and teachers to enable the children to reach such heights of performance.
All of those taking part in the final were awarded beautiful photoBLOX trophies provided by Dennis D Evans & Co Ltd who also created and printed high quality competition programmes. Other sponsors of the competition included North Down Borough Council and the Council for Curriculum, Examinations and Assessment. Floral decorations were supplied by Groomsport Nurseries.
The Rotary Club of North Down wishes to express its gratitude to the Governors, Principal and Staff of Towerview Primary School for hosting the competition in the school.
Pictured - The 15 Finalists in the Primary Musician 2014 Competition are flanked by Lady Sylvia Hermon MP with Rotarian Jim Henry, Youth Activities Chair, and Robin Hewitt, Finals Adjudicator with North Down Rotary Club President Billy Wilton.
Clients