Filter by Publication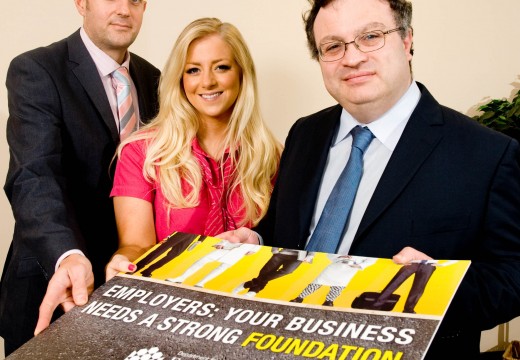 The Department for Employment and Learning recently launched a campaign to raise awareness and understanding of Foundation degrees and to promote this as an option to employers, employees and students. Pictured at the launch are Alex Irvine, Tourism Development Officer, North Down Borough Council, Mandy McLaurin, North Down Borough Council and Minister for Employment and Learning, Dr Stephen Farry.
Since 2009 North Down Borough Council have provided essential work placements to a number of Foundation degree students from South East Regional College (SERC).
A Foundation Degree is a recognised Higher Education qualification in its own right and offers a progression route to an Honours degree at University. It allows flexible studying methods, which means that they are available to people already in work, those wishing to embark on a career change and to those who have recently completed level 3 qualifications.
Work based learning is an essential part of all Foundation degree courses; the practical experience gained from such placements brings great rewards. Work placement students bring with them new skills and fresh ideas and fro the employer this is the added benefit of an extra pair of hands.
Employment and Learning Minister, Dr Stephen Farry said: "Foundation Degrees are higher education qualifications that combine academic study with on-the-job experience. This mix can help boost students' skills and career prospects whilst benefitting employers and their business. This means Foundation degree students graduate with a very specialised set of skills designed to meet the specific needs of employers in a particular sector.
"The Foundation degree is ideal for those who have a desire to get ahead, achieve more and obtain a recognised qualification. It is this drive and determination that will shape our economy and with the support of employers there is a real opportunity to develop and motivate staff, increase skill levels in the workplace and reap the rewards of having a more qualified workforce."
Alex Irvine, Tourism Development Officer of North Down Borough Council said: "There is a lot to be gained from taking on placement students and becoming involved with Foundation degree development and delivery. We take on students to give them a grounding of the domestic tourism product and to introduce them to the type of enquiries that they may find themselves encountering within the tourism sector.
"The students are given the opportunity to work in a busy, tourist information centre environment with the aim of developing their skills, building their knowledge and allow them to gain experience with the aim of helping them secure full time employment following their degree."
Further information about Foundation degrees and how they can benefit employers, employees and students is available at:www.nidirect.gov.uk/foundation.
Clients