Filter by Publication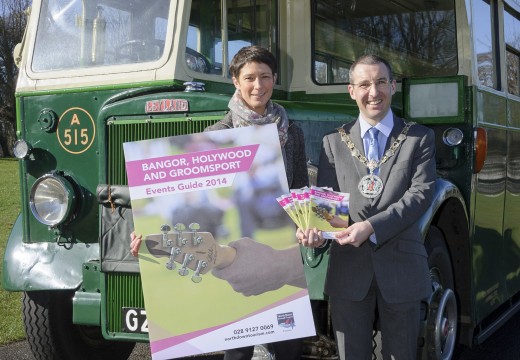 Watch out for North Down Borough Council's 2014 Events Guide as it drops through your letter box this week! A definitive guide to what's happening in The Borough in 2014, the much-anticipated brochure will be delivered to 38,500 homes across North Down via Royal Mail.
The Guide features all of North Down Borough Council's Events across Tourism, Arts & North Down Museum, alongside NDBC grant-aided events and all other major events happening this year.
Highlights of this year's Events Programme include the Seashore Festival which will take place on 7 & 8 June. Featuring two tall ships, an air-display, a steam train and a vintage car display, this "Ships, Planes, Trains and Automobiles" extravaganza is not to be missed! Theatre at The Walled Garden is also making a return, this year showcasing Pride & Prejudice. Guaranteed to be another hit; this event in the beautiful surrounds of The Walled Garden is always hugely popular. Also coming back for a second year is The Open House Festival which will see live music and arts events taking place around Bangor for the whole month of August.
Translink's Louise Scott says that The Events Guide is the perfect fit for the Translink Life's Better campaign, "We are delighted to help launch North Down Borough Council's Events Guide for 2014 and look forward to being involved in the "Ships, Planes, Trains and Automobiles" event in June. We would encourage people to get in the mood for the event by travelling to Bangor by steam train, bus or scheduled rail services on 7 & 8 June. Taking the train or bus can add to the experience of any day-trip, making life better by allowing passengers to sit back and relax, free from the stress of traffic congestion – the journey becomes part of the day out rather than just a means of getting there!"
Also speaking about the launch, The Mayor of North Down, Councillor Andrew Muir said; "I am very excited to launch this year's Events Guide. There's so much happening in The Borough this year, fun for all the family, whatever your interests we've got something on for you. It looks like North Down is the place to be!"
The Events Guide will be out on week commencing March 10 so grab yourself a copy and start planning your days out!
Clients