Filter by Publication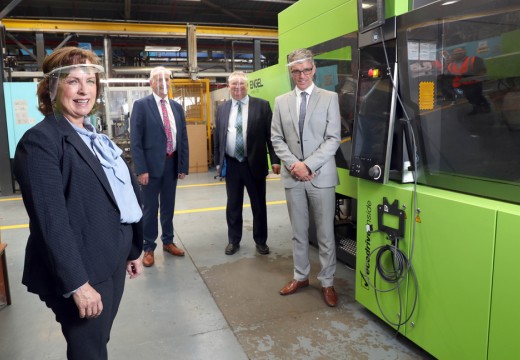 Economy Minister visits Denroy Group with Gordon Dunne MLA, Dr John Rainey MBE and Kevin McNamee
The Economy Minister Diane Dodds has been welcomed to Bangor after a visit organised by local North Down MLA Gordon Dunne. The Minister began her tour by visiting the Denroy Group and this was followed by Priory Press Packaging. The Economy Minister announced that packaging manufacturer Priory Press Packaging is investing over £1million in new machinery as part of plans to grow the business into new markets. The Minister added:
Pictured with Diane Dodds at Priory Press Packaging in Conlig are (centre) Ernest McConville, Chairman, Priory Press Packaging, and Mark McConville, Managing Director of the company.
"This is a significant investment by Priory Press Packaging. The new machinery will allow the company to increase export opportunities and the overall productivity of its business. It comes after the company spotted a niche gap in the market and will allow it to diversify to supply products for the pharmaceutical market."
The County Down SME currently supplies printed carton packaging for manufacturers across a range of sectors including food and beauty. The Minister continued:
"It is good to see how Priory Press Packaging has identified and adapted quickly to capitalise on new opportunities. I trust this gives other businesses hope as they currently evaluate the post-Covid landscape. Diversification is going to be an important part of our economic recovery and my Department and Invest Northern Ireland are positioned to help companies adapt, recover and rebuild. Invest NI has been working with Priory Press since 2011 and has offered a range of support including trade market visits, job creation, skills development of staff and technical product assistance. This latest offer of £91,800 will support the company to invest in new machinery and create two new jobs."
The Minister also visited the Denroy Group during the visit and met with Dr John Rainey MBE and Kevin McNamee of the Denroy Group.
Clients