Filter by Publication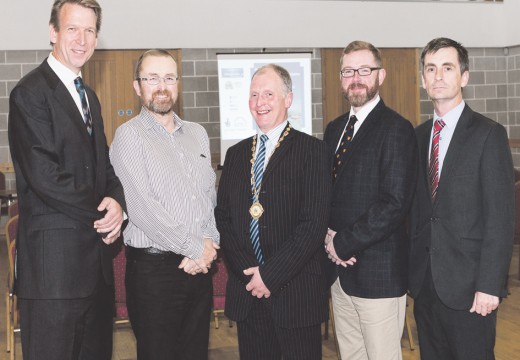 Donaghadee Townscape Heritage Initiative Launch
Ards Borough Council officially launched the Donaghadee Townscape Heritage Initiative recently, presenting futures plans for the project which will see the regeneration of derelict and unused building around the town.
Funding of nearly £1 Million has been earmarked for the regeneration of buildings in the town from the Heritage Lottery Fund, which aims to sustain and transform a wide range of heritage for present and future generations to take part in, learn from and enjoy.
Deputy Mayor of Ards, Alderman Colville Elliott, attended the event and encouraged local people to become involved in the plans as they developed:
"Donaghadee has a rich history, and it is apt that this project is heritage led and will not just restore, but retain the traditional, historic look of buildings and landmarks. This is significant investment in Donaghadee and has the potential to make a very big difference to the overall look and attractiveness of the town."
The project is being led by Ards Borough Council through Donaghadee Town Steering Group and in association with the Donaghadee Commerce and Development group
Councillor Tom Smith, Chairman of the Donaghadee Town Steering Group, said:
"I am delighted that the works on the Donaghadee Townscape Heritage Initiative is about to commence. It has been vital for the project that the local community and businesses have come together to have their say and I know the people of Donaghadee are looking forward to seeing the transformation begin".
For further information contact Nick Brown, Townscape Heritage Initiative Officer, Tel: 028 9188 9637, E: nick.brown@ards-council.gov.uk.
Pictured: Nick Brown - THI Officer Ards BC, David Cochrane - Donaghadee Commerce and Development Group, Alderman Colville Elliott - Deputy Mayor of Ards, Mark Glover - Heritage Lottery Fund, Councillor Tom Smith - Donaghadee Town Steering Group
Clients