Filter by Publication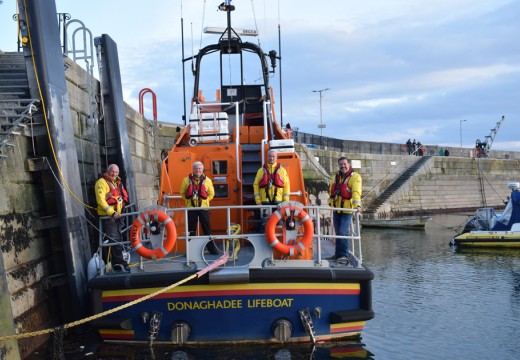 Left to Right – Philip McNamara, Coxswain. John Petrie, Crew Member of over 30 years. Michael Field, Crew Member of over 30 years. Mark Nelson, Crew Member of over 20 years.
Three Donaghadee Lifeboat volunteer crew members have had their long term service to the institution recognised by RNLI headquarters in Poole in the form of long service medals.
The three crew members have together accrued over 80 years in service to the RNLI and in turn to the community in Donaghadee and its lifesaving heritage.
Crew member Michael Field has been awarded his 30 year long service medal and has been involved in many call outs over the years, all whilst working and raising a family with his wife Dawn. Michael commented 'Even after so many years, I still very much enjoy the training exercises and the continual learning. Of course, the comradeship with the other crew over the years has been a big part of the satisfaction I get from being a volunteer. After a particularly difficult shout, of which I have seen many, we are all there to support each other and get ourselves prepared for whatever the next shout may bring'.
Mark Nelson has been awarded his 20 year long service medal as a volunteer crew member, Mark has juggled his career as a chef as well as being a busy family man for many of these years. When asked what he has noticed most about the RNLI in his time he said ' The abilities of the boat, technological advances and the equipment we work with has been impressive and continues to change and challenge us all to maintain our training and skills. No two training exercises or call outs are the same, always interesting and keeps us on our toes!'.
Crew member John Petrie has also been awarded his 30 year long service medal and has seen many changes in his time also. John joined at the age of 23 and has volunteered on two of the RNLI lifeboats City of Belfast and the current Saxon, he has also volunteered under three coxswains, Graham McConnell, David Martin and current coxswain Philip McNamara. Reflecting on his time with the lifeboat John commented on his most memorable call out ' On the 20th of April 1993, we were called out to the fishing boat Berachah, they had a man overboard 20 miles south of Donaghadee. We searched for 5 hours in atrocious conditions, 10 metre swells and sometimes more. Definitely a shout that stands out for me'.
Clients