Filter by Publication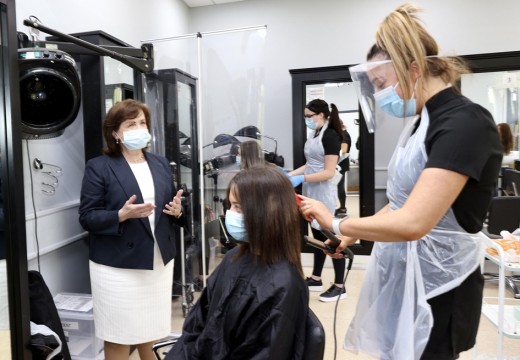 Economy Minister Diane Dodds today welcomed learners in some close contact subjects as they resumed onsite learning at further education colleges and non-statutory training providers.
The Minister visited South Eastern Regional College's Bangor campus to welcome learners back.
Speaking after her visit, the Minister said: "I am delighted that learners in close contact subjects such as hair and beauty, barbering, sport and hospitality are able to resume their learning onsite at our local further education colleges and non-statutory training providers.
"By their nature, these subject areas require learners to have practical learning experience in order to develop their skills. By coming back onsite, learners in these subjects can now properly prepare for their assessments so that they can achieve their qualifications."
The Minister added: "This is a very positive step forward but I am conscious that many more learners in other subject areas have not yet returned to onsite learning. My officials are working with Department of Health officials to roll out testing to FE colleges so that more learners can return safely and I hope to be in a position to welcome even more people back to onsite provision very soon."
Principal of South Eastern Regional College Ken Webb said: "We are very pleased to be welcoming back learners in close contact subjects to our campuses. We have worked hard to put in place the necessary safety measures and staff are ready to resume teaching our students so that they can work towards their assessments."
Colleges and non-statutory providers are required to carry out site-specific risk assessments and adhere to guidance on safe resumption of onsite learning in the Department's Framework Document, developed in line with public health advice.
The Framework Document containing guidance for FE colleges and non-statutory training providers on safe resumption of training in close contact subjects is available at https://www.economy-ni.gov.uk/publications/framework-safe-resumption-site-educational-provision-and-related-activity    
Clients