Filter by Publication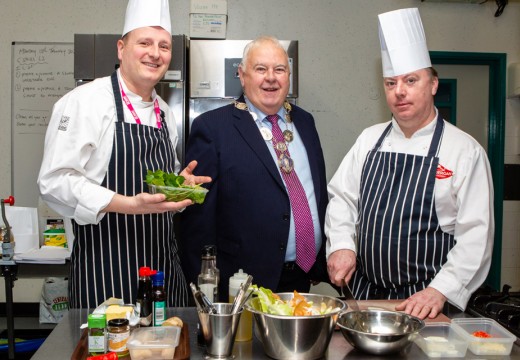 Mayor of Ards and North Down, Alderman Bill Keery, with chefs at the SERC Food Demonstration Day.
Ards and North Down Borough Council continued its partnership with South Eastern Regional College (SERC) for this year's Food Demonstration Day and Competition Showcase which saw more than 60 students take part in cooking and baking challenges.
Students from SERC's Downpatrick and Lisburn campuses travelled to Bangor for a demonstration day which provided opportunities to learn new skills in baking, fish fileting, butchery and vegetarian cooking.
Knead and Prove, The Kitchen Academy, Corries Meats, Keenan Seafood and the chef from the Georgian House restaurant in Comber demonstrated a series of dishes before students put their newfound skills to the test during a 'competition day', with prizes for the best in each category up for grabs.
The Mayor of Ards and North Down, Alderman Bill Keery, said:
"Developing skills and employability is a key part of the Council's Integrated Strategy for Tourism, Regeneration and Economic Development. We are working with educational establishments as well as the Department for Communities and local businesses to support the development of skills which will be needed in the borough for it to grow."
"Catering students are building up and strengthening our food and hospitality sector which helps attract visitors and tourists to our area. Ards and North Down is renowned for the quality of its food products and the event provided an opportunity for students to put them show."
He added: "It was really difficult for the judges to select the category winners and if these are our chefs of tomorrow, then Ards and North Down has a bright, culinary future ahead."
Students created a variety of chicken, fish and vegetarian dishes, as well as bread roll shaping and a buttermilk 'scone making' challenge. Some took part in a modelled centrepiece challenge and created wired sugar flower posies while the Food Service Staff's cocktail challenge, which forms part of the training for hospitality catering students, was particularly popular!
Paul Mercer, the Deputy Head of School of Hospitality, Management, Tourism and Languages at SERC, said:
"It is part of the very ethos of SERC that our catering and hospitality students have as many opportunities as possible to engage with people working in the food industry, so we were delighted to take part in the Food Demonstration Day and Competition Showcase. The students thoroughly enjoyed the experience."
"We look forward to welcoming budding chefs to our forthcoming open days at SERC on Wednesday 4 March from 2pm to 7pm and Saturday 7 March from 10am to 12noon where they can learn about the range of programmes on offer at SERC."
For more information, visit apply.serc.ac.uk.
Clients