Filter by Publication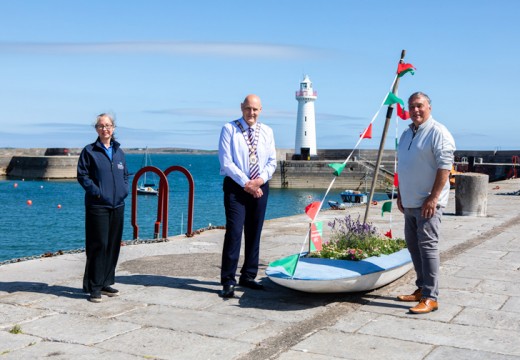 Mayor of Ards and North Down, Councillor Mark Brooks is pictured at Donaghadee Harbour ahead of the Bicentenary Celebrations with John Caldwell, Donaghadee Community Development Association and Heather McGuicken, Museum Manager, Ards and North Down Borough Council. 
Sunday 1 August 2021 marked the 200th anniversary of the iconic Donaghadee Harbour. To celebrate the occasion, Ards and North Down Borough Council recently hosted an exciting weekend of activity.  
Donaghadee has been a shipping haven for centuries and has served as a vital communications link between Ireland and Scotland. The town's harbour is made up of two piers built between 1821 and c.1834. This new harbour replaced an earlier construction, dating back to the 1600s, when Hugh Montgomery, the town's founder was awarded a Royal Warrant to build a seaport and harbour and to establish a mail packet service. 
Designs for the new harbour were drawn by John Rennie, the Scottish civil engineer whose previous works included Waterloo and Southwark Bridges over the Thames in London. The foundation stone was laid on 1 August 1821 with the building of the South Pier completed in 1825 and the North Pier and Lighthouse in 1834. 
The celebrations to mark the bicentenary began on Thursday 29 July. The Donaghadee Local History Research Forum will present 'The History of the Harbour by Dr Robert Neill', an illustrated talk provided fantastic insight into the building of the harbour and its role in the town's development.  
Events included  the MG and Morris Minor Club Cavalcade parade through the centre to Copeland Plaza, a regatta at Donaghadee Sailing Club, 'A Walking Tour of Donaghadee with Dr Robert Neill' and the Sir Samuel Kelly Lifeboat Shelter also opened its doors for visitors to view the exhibition, which covered the history of this special lifeboat.  
It was a day to shop local with special offers and free gifts in participating shops. Lemon's Wharf played host to Taste Ards and North Down Food Market along with a local variety market, showcasing wonderful local arts and crafts.
A special Commemorative Service and Time Capsule Burial took place on Sunday 1 August, led by the Mayor of Ards and North Down, Councillor Mark Brooks.  Speaking prior to the event, the Mayor said,  
"It is a privilege and an honour to lead this Commemorative Service to mark the bicentenary of Donaghadee Harbour. I am especially proud to be part of this momentous occasion as I brought the initial Notice of Motion to Council requesting that the bicentenary be recognised by Council. It will be wonderful to celebrate the fascinating story of the harbour's history and acknowledge the significant role it has played in the development of our sea-side town." 
Clients