Filter by Publication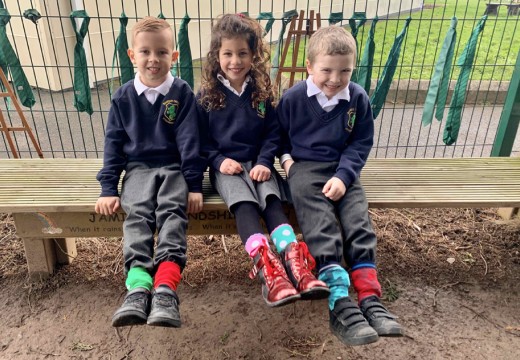 Schools and youth organisations across North Down came together for their first ever link up with Odd Socks Day in support of Anti-Bullying Week.
 Odd Socks Day gave children and young people a cost-effective but fun way to embrace all that is different about them and their peers. It was the first time it has come to Northern Ireland, having enjoyed many successful years in the rest of the UK.
Last year Odd Socks Day saw 56% of UK school children take part but this year the campaign sought to even more young people as it made its way to Northern Ireland.
 Anti-Bullying Week in Northern Ireland is coordinated by the Northern Ireland Anti-Bullying Forum (NIABF), an interagency group managed by the National Children's Bureau (NCB) and funded by the Department of Education. The event here this year is supported by Translink and Safeguarding Board for Northern Ireland (SBNI). 
Deirdre McAliskey, Assistant Director at the National Children's Bureau, hosts of the NIABF and organisers of Anti-Bullying Week, said:
"We believe that by channelling our collective power, through shared efforts and shared ambitions, we can reduce bullying together. We all have a part to play in tackling bullying and we are delighted this year to have partnered with Anti Bullying Alliance, our sister organisation in England, and have the support from CBeebies and CBBC star Andy Day, and his band Andy and the Odd Socks, to help inspire children, parents and schools to bring about positive change and a world free of bullying."
Collectively, the member organisations and sponsors encouraged children and young people to join their classmates in celebrating their differences.  
Ms McAliskey continues: "This year, more than ever, we have experienced the inspirational capacity that society has when it comes together to tackle a common challenge. By channelling our power for good, through shared efforts and collective responsibility, we can reduce bullying together. We want children and young people to parents, carers, teachers and politicians to all play a role in uniting against bullying. This is everyone's business, not just those directly affected."
Gillian Cuthbert, Chair, Northern Ireland Anti-Bullying Forum (NIABF), added: "United Against Bullying wass a very apt theme for this year's event and despite everything that's going on around us, we feel it is more important than ever to be consistent with our efforts to erase bullying:
"This year's Anti Bullying Week featured a range of campaigns including Odd Socks Day. This was be a great initiative to allow children to embrace their differences and have discussions about being unique and how we all play a part in solving this puzzle. It was also a simple campaign that doesn't put pressure on families and children to spend on expensive fancy dress costumes or something new, just don two mismatched socks and think how our differences make us special."
Clients