Filter by Publication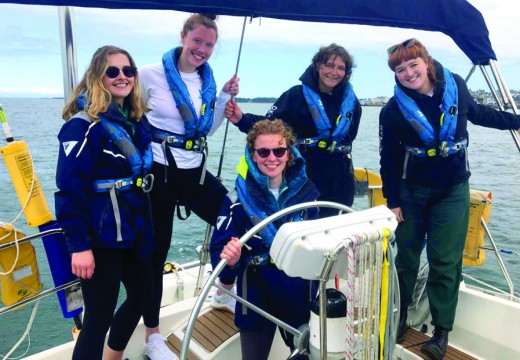 Young people, who have been treated for cancer at Belfast City Hospital and the Royal Belfast Hospital for Sick Children, enjoyed three days of sailing with the Ellen MacArthur Cancer Trust at Bangor Marina recently, as the Trust aims to transform more young lives this summer.
12 young people, aged between 11 and 24, took part in three days of sailing between 13-16 July. Each group of young people were joined by a Trust crew of volunteers and a skipper who taught them to raise the sails and helm the 44ft yacht.
The Ellen MacArthur Cancer Trust inspires young people aged 8-24 to believe in a brighter future living through and beyond cancer. For many young people, picking up where they left off before their diagnosis isn't possible. So, when treatment ends, the Trust's work begins. 
The hospitals' sailing days were part of the Trust's 'Taste of the Trust' programme in response to the ongoing pandemic for 2021. Instead of the usual four-day sailing trips the young people would typically be invited on, these regional one-day events take the Trust to the young people and are organised to be as COVID secure as possible.
The hope is the young people enjoyed their day so much they will be inspired to return to the Trust for the full experience next year.
Sarah Matthews was 23 when she was diagnosed with metastatic germ cell carcinoma. Now 24, she reveals lockdown has "quite possibly been more stressful than treatment" for her.
But she admits: "It was amazing to finally meet some people around my age, in person, who had been through something similar to me. I was on an adult ward during treatment so never had anyone to relate to. Knowing that we all had at least one vaccine and were equally as serious about being safe really just made me feel able to relax and enjoy it."
The Trust believes every young person should feel valued, accepted, optimistic and independent. Through Trust support, their mental wellbeing improves, and they can start to re-establish their place in the world by getting back into education or employment and reconnecting with their friends and families.
The isolation, loneliness and anxiety experienced by young people with cancer has been massively amplified by the pandemic and lockdown. That is why they need the Trust more than ever right now.
The Ellen MacArthur Cancer Trust was founded by the record-breaking round-the-world yachtswoman in 2003. It is there for anyone who is struggling or could simply do with a bit of support, however long off treatment they are. Visit ellenmacarthurcancertrust.org or follow @emctrust on social media.
Clients