Filter by Publication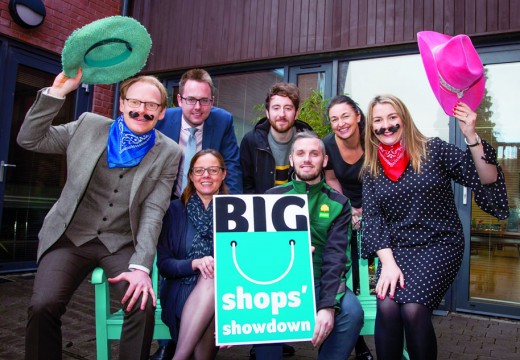 Front row: Andy Nisbet, Business in the Community, Lisa Nap, Allen & Ovary, Aaron Gordon, JP Corry, and Rosie Forsythe, corporate fundraising manager, Cancer Focus Northern Ireland. Back Row: David White, Arthur Cox Law, Niall Carton, Baker McKenzie, and Claire Rowe, The Progressive.
Local organisations have signed up to raise cash for Cancer Focus Northern Ireland by taking over their charity shops on 27 April 2018 for a high-powered Apprentice-style challenge.
Teams taking part in the Big Shops' Showdown will have to get creative and take over the running of the charity's 12 shops which are located all over Northern Ireland.
Hilary Hanberry, Volunteering Manager from Business in the Community, said: "We are delighted to be running this challenge in partnership with Cancer Focus NI. The teams will need to use their entrepreneurial skills, business acumen and years of collective experience to increase donations, footfall and sales at their particular shop.
"The companies involved are committed to doing business responsibly, and this employer supported volunteering challenge offers multiple benefits – enabling employees to take on and project manage the challenge, use their skills and wits to fundraise, get creative in managing and promoting 'their' shop and raising awareness of Cancer Focus NI's services throughout Northern Ireland. It's hard work but great fun and of course some healthy competition to see who will be the slickest fundraisers in town!"
Companies signed up include: Allen & Overy, Arthur Cox, Baker McKenzie, Firstsource, Frylite, Healthy Built Environment, JP Corry, Progressive Building Society, Qualitrol and Whale Pumps.
Rosie Forsythe, Corporate Fundraising Manager, Cancer Focus NI, said: "The Big Shops' Showdown provides a unique opportunity for Cancer Focus NI to raise awareness of the valuable work that we do and to raise much-needed cash.
"Every penny raised during the challenge stays in Northern Ireland to provide vital support services for local people including family support, counselling and art therapy for anyone affected by cancer, a NurseLine and a bra-fitting for women who've had breast cancer."
She added: "The Big Shops' Showdown is a serious business test, with a little friendly competition between the organisations involved. We will announce the winners at a special celebration lunch at Cancer Focus NI offices in Belfast on Friday 11 May. It's a great opportunity for us to recognise the efforts and activities of each of the teams and say thank you to all involved.
"Whether you're part of a team participating in the challenge, supporting work colleagues who are taking part, live close to one of the shops or are simply on the lookout for a bargain, you can be part of this year's Big Shops' Showdown and help to raise vital funds to support our care services, cancer prevention work and research."
Clients