Filter by Publication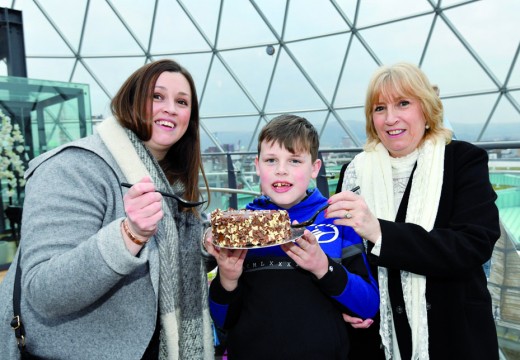 Birthday boy Sam McDowell (centre) with (L-R) mum Kerry McDowell and Grandmother Jill Leonard in Victoria Square's dome. Five lucky 10 year-olds who share their birthday with Victoria Square were treated to a birthday party in the centre's iconic dome to mark the official 10th anniversary celebrations.
Northern Ireland's leading leisure and retail destination, Victoria Square turned 10 recently and a local boy  who shares his birthday with the popular Belfast shopping centre joined in on the celebrations.
Sam McDowell from Bangor, who was born on 6th March 2008 – the day Victoria Square first opened to the public - was joined by members of their family and four other 10-year-olds for a private birthday party in the dome.
Throughout the month of March, Victoria Square said thank you for the memories with a host of exclusive events and over £10,000 worth of giveaways to celebrate its big birthday.
Shoppers benefited from a fantastic range of promotions, offers, giveaways and events, as Victoria Square went into full on celebration mode, with the mall bedecked with an impressive floral installation.
Customers also had the chance to win an array of prizes and VSQ experiences. A massive £10,000 worth of Victoria Square prizes was dished out through giveaways on the mall and in partnership with Visit Belfast, Cool FM and Q Radio. A special arcade machine in the centre offered visitors the chance to win fantastic gifts, ranging in value from £5 - £500, with proceeds going to Victoria Square's chosen charities for 2018.
Victoria Square's iconic dome is acting as showcase area for a range of prize-winning artistic creations, submitted through a public art competition to mark its 10th birthday. The 10 winning artworks, which draw their inspiration from Belfast over the last decade, were judged by local artist, Aly Harte following a public art competition that attracted a staggering 1000 entries.
For further information, visit www.victoriasquare.com Share your Victoria Square memories on Facebook @victoriasquarebelfast Twitter @Victoria_Square and Instagram, @victoriasqbelfast using the hashtag #VSQ10.
Clients