Filter by Publication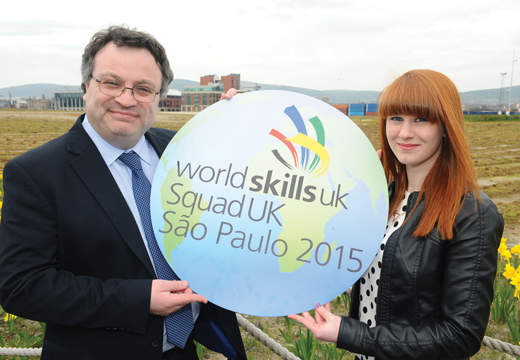 Employment and Learning Minister Dr Stephen Farry recently announced that Northern Ireland will play host for the first time to the WorldSkills 2015 UK Squad Selection.
Naomi Stevenson, a Bangor Industrial Engineering student from SERC's Bangor campus will be one of the 160 apprentices competing in the WorldSkills UK Squad Selection taking place between 24-26 June 2014 in Northern Ireland.
Between 24-26 June 2014, over 160 of the UK's most talented apprentices and learners will battle it out over three days of intense competition in Northern Ireland with the hope of securing a place in Squad UK for WorldSkills Sao Paulo 2015.
Employment and Learning Minister Dr Stephen Farry said: "The selection of Northern Ireland Colleges to showcase the best of UK skills is an acknowledgement of the high quality skills in professional and technical areas, coupled with the state-of-the-art facilities in the FE sector in Northern Ireland. The competitions showcase the high levels of performance that can be achieved by individuals and organisations through quality training, inspiring young people and adults to be ambitious in their pursuit of skills to the highest level.
"There will be a series of fringe events during the competitions to promote vocational excellence and encourage employers and future apprentices to get involved. I look forward to welcoming the 160 competitors which include 30 young people from here for an intense week of skills competitions, seeking an opportunity to represent the UK at WorldSkills 2015 in Sao Paulo, Brazil."
The competitors, all of whom are under 25 years of age, were invited to take part in the selection process for Squad UK after excelling at the WorldSkills UK National Competitions. The event is expected to bring up to 400 visitors to Northern Ireland including over 130 GB competitors, WorldSkills UK judges, training managers, performance coaches, employers and competitors' family members.
WorldSkills is the world's largest international skills competition. The next WorldSkills takes place from 11-16 August 2015 in Sao Paulo. Held every two years in cities around the globe, the competition sees around 1000 young people come together to compete for medals in more than 40 skills ranging from Bricklaying to Industrial Electronics and Aircraft Maintenance.
Employment and Learning Minister Dr Stephen Farry pictured with Naomi Stevenson, SERC Industrial Engineering apprentice competitor from Bangor
Clients