Filter by Publication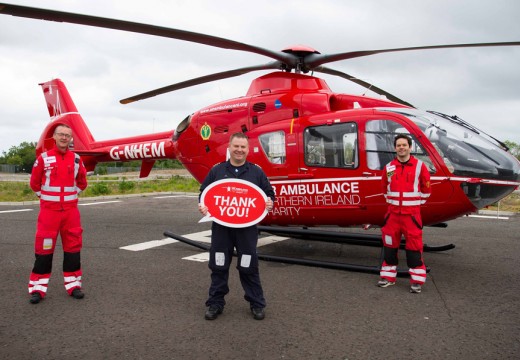 From Left to Right HEMS Paramedic Mike Patton, HEMS Pilot Richard Steele, HEMS Doctor Rory Maguire.
 The charity Air Ambulance Northern Ireland, in partnership with the Northern Ireland Ambulance Service, provides the Helicopter Emergency Medical Service (HEMS) for Northern Ireland.  The service brings urgent medical assistance to anywhere in the province, operating 7 days a week for 12 hours per day. It can get to anywhere in NI in approximately 25 minutes. The HEMS team attend patients who are seriously ill or injured, bringing emergency pre-hospital care direct to the casualty.
The charity recently reported an 18.5% increase in taskings since 2019 with 692 missions in total throughout 2020. 63 of these were in the North Down and Ards Council area. Since the inception of the service in 2017, they have been tasked over 1,943 times. Road traffic collisions were the most common type of incident attended by HEMS in 2020, followed by falls and then workplace accidents.
The crew have been carrying blood on board the EC135 helicopter and rapid response vehicle since January 2020. This major clinical development enables the team to administer blood to patients who need it before they reach hospital which makes a significant difference to those who have suffered major blood loss. In 2020 blood was administered 24 times.
Air Ambulance NI aspires to raise £2million each year to maintain this service. Despite the increase in taskings the charity is currently experiencing a dramatic downturn in fundraising caused by the health pandemic so public support is crucial. The charity is asking people to become a Club AANI member and set up a direct debit for £8 per month. To sign up go to www.airambulanceni.org or call the charity team on 028 9262 2677.
Clients