Filter by Publication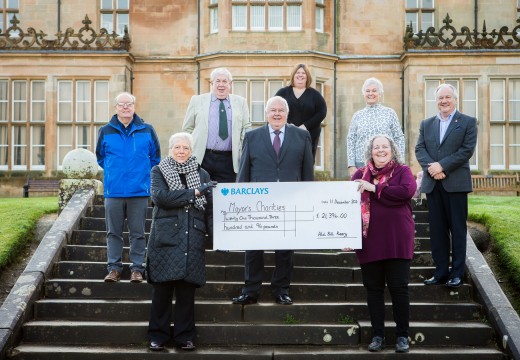 Back row: Tom Monaghan (Air Ambulance NI), Jill Robinson (Flourish NI) and Linda Gillies (Decorum NI).  Middle row: Bobby Kennedy (Bangor Sea Cadets), Alderman Bill Keery (2019-20 Mayor of Ards and North Down) and Wesley Wilson (Decorum NI).  Front row: Roberta Dunlop (Bangor Sea Cadets) and Fiona Craig (Decorum NI)
The 2019/20 Mayor of Ards and North Down, Alderman Bill Keery, raised £21,396 for the four charities that he supported during his term as Mayor.
The funds raised will be split equally between Air Ambulance NI, Bangor Sea Cadets, Decorum NI and Flourish NI, helping them to continue their great work in Ards and North Down.
It was an event-filled year for Alderman Keery as he worked hard to raise as much money as possible for the charities. Working with local traders, a number of innovative new events were organised to raise money.
They included skateboarding, bike and scooter taster sessions, as well as a charity boxing event, plus a number of bucket collections throughout the Borough, and much more.
Alderman Keery said: "I am very pleased to have been able to raise so much money for these four very worthwhile charities. Our efforts were curtailed towards the end of my term as Mayor due to the pandemic but we still managed to achieve a substantial amount of money."
"Thank you to everyone who donated as well as all of the volunteers who helped. Their efforts really helped to make a difference and it would not have been possible to raise over £21,000 without them."
The 2020/21 Mayor of Ards and North Down, Councillor Trevor Cummings, has chosen to support three charities this year - Bangor Foodbank and Community Support, Newtownards Foodbank, and the RUCGC-PSNI Benevolent Fund.
For more information, visit ardsandnorthdown.gov.uk/mayorscharities. 
Clients