Filter by Publication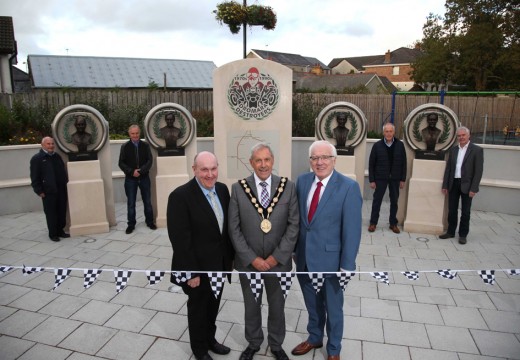 Legendary Dromara Destroyers honoured with tribute garden.  Pictured with the Dromara Destroyers Ian McGregor, Brian Reid, Ray McCullough and Trevor Steele are Chairman of the Council's Development Committee, Ald William Leathem; Mayor of Lisburn & Castlereagh City Council, Cllr Uel Mackin and Chairman of Lagan Rural Partnership Ald Allan Ewart MBE.
 A celebratory and poignant tribute garden in honour of the legendary Dromara Destroyers was recently unveiled.
Local racing legends the Dromara Destroyers quartet of Brian Reid, Ray McCullough, Trevor Steele and Ian McGregor have been commemorated with this new attraction to mark the accomplishments of the Dromara Destroyers and honour the four riders who managed to achieve so much in their racing careers.
Lisburn & Castlereagh City Council is pleased to be supporting the development of the Tribute Garden, which is being delivered with additional funding support from the NI Rural Development Programme through Lagan Rural Partnership along with a contribution from the successful fundraising carried out by the Dromara Destroyers Committee over the years.
The Destroyers Committee has worked extremely hard to bring this project to reality. In the past year they have worked closely with the council to secure all the required funding to make it possible. The new garden designed by Tom Quinn of Quinn Architects includes four bronzed busts of the Destroyers created by artist John Sherlock, plus new seating and lighting.
Speaking on behalf this touching tribute, Trevor Steele says he is overwhelmed and delighted with the finished garden: "I am humbled by the creation of this magnificent garden. Not many people can say they have lived to see themselves honoured in this way. We are all delighted with the finished project. I want to express my sincerest thanks to all those involved, particularly the Destroyers Committee that have campaigned over the years to make this happen. Motorbike racing is in our blood and we hope that our legacy will continue to inspire others from Dromara and further afield."
Alderman William Leathem, Chair of the Council's Development Committee commenting on the new garden, said: "I am thrilled to see this project come to fruition. The finished garden is fantastic and a wonderful recognition to the success of the Dromara Destroyers. Northern Ireland is full of racing enthusiasts and this new garden provides an ideal way to acknowledge the success of the wider motorbike fraternity from Dromara and the surrounding areas."
Alderman Allan Ewart MBE, Chair of Lagan Rural Partnership, added: "The completed garden looks tremendous and really will adds something special to the centre of Dromara village and the surrounding rural community. It is a true celebration of the area's support for these riders and the wider biking fraternity. It will also generate additional tourism footfall and creates a perfect way to tell the story of the Dromara Destoryers."
Clients