Filter by Publication
Speciality Food Fair returns to Moira Demesne this August, as part of the first Moira Food & Drink Festival
August 2019 - The Lisburn Advertiser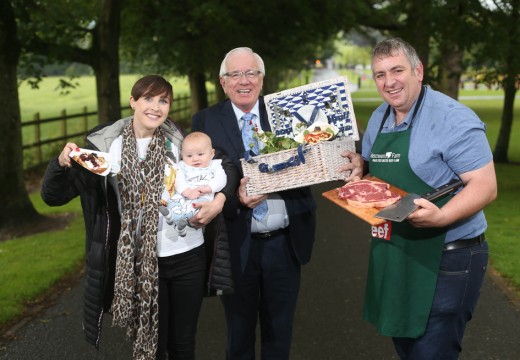 (L-R) Zara Greer Barn & Bread Street Food with her baby Oliver, Alderman Allan Ewart MBE, Chairman of Lisburn & Castlereagh City Council's Development Committee and Damien Tumelty, Castlescreen Farm, pictured at the launch of the Council's fifth Speciality Food Fair and the first Moira Food & Drink Festival.
 Presented by Lisburn & Castlereagh City Council and taking place from 15th – 18th August, the first Moira Food & Drink Festival will feature the ever-popular Speciality Food Fair as it returns to Moira Demesne in a new two-day format on Saturday 17th and Sunday 18th August.
Moira Food & Drink Festival will be kick-started in the village on Thursday 15th August with a 'Dine with the Producers Supper' in the renowned Wine and Brine, as well as a comedy evening and pub quiz in the village pubs. The highlight on the Friday will be a family-friendly Street Party with colourful street theatre, kiddies' disco and live music from 6pm-9pm. For those looking for a challenge, then the family treasure hunt in Moira Demesne is a must! There are also cooking masterclasses hosted by Chef Chris McGowan among others, including a traditional jam-making masterclass with Brambleberry Jams in one of Moira's restored listed homes.
The final two days of the Moira Festival of Food & Drink will be focussed around the much-loved Speciality Food Fair which has become a focal point in the foodie calendar. Now in its 5th year, its growth to a two-day event at Moira Demesne will enable local traders and producers more time to showcase and share their food and drink delicacies with the members of the public who have travelled from across the country and further afield to experience Moira, a quickly-growing and vibrant foodie destination.
As always, visitors will have the chance to purchase directly from producers as well as pick up some great cookery tips through the various Kitchen Sessions, expert masterclasses and workshops, hosted by local food producers and chefs, including Chris McGowan and Stephen Jeffers who will be joined by Northern Ireland's celebrated chef, cookery writer and broadcaster, Paula McIntyre MBE.
A wide range of Northern Ireland-based traders will be in attendance including local favourites Abernethy Butter, Barn and Bread, Indie Fude, Krazi Baker, Crumbs Vegan Bakery and Hilden Brewery, with produce on offer including award-winning speciality meats, artisan cheeses, fresh bread, cakes and condiments. Artisan street food from across the province will also be available to purchase and enjoy in the picnic area, as well as a wide selection of alcoholic and non-alcoholic beverages from the pop-up bar to quench the thirst of the thousands of guests expected to visit Moira Demesne.
Visitors to Sunday's Speciality Food Fair will also get the chance to take in a special cookery workshop with renowned NI chef Paula McIntyre, who will offer her hints and tips on cooking and eating efficiently, to best ensure that we are eating food with optimum nutrition, that is sustainable and reduces waste.
Commenting on the newest addition to the Lisburn & Castlereagh City Council Food & Drink Programme, Chairman of the Development Committee, Alderman Allan Ewart MBE said:
"We are extremely excited to launch the first Moira Food & Drink Festival which links perfectly with this year's two-day Speciality Food Fair. Moira is a leading food destination in the Council area and our upcoming festival will be a great way to reinforce Moira's mark on the overall Northern Ireland food and drink map.
Year on year there is growing interest in the Speciality Food Fair from award-winning producers based within the Council area and further afield, and we are so pleased to be able to offer our local producers an extra day to have valuable face time with their customers and sell their unique produce."
Those seeking offerings that cater for special dietary needs including gluten free, vegan, dairy free and vegetarian, will also find tempting food options to enjoy throughout the Speciality Food Fair as specialist producers will be strongly represented within the trading line-up. 
Families will have plenty to entertain them with interactive play led by local edutainment company, Kindergarden Cooks. There will also be face painting, balloons and street theatre to delight all ages as well as live music from local artists on both days in the demesne.
Entry and parking to the Speciality Food Fair is free and access for disabled visitors is provided.
The Moira Food & Drink Festival will run from Thursday 15th – Sunday 18th August, with the Speciality Food Fair trading from 10am – 6pm on Saturday and 11am-5pm on Sunday. For more information on traders and a full programme of events visit visitlisburncastlereagh.com or follow Visit Lisburn & Castlereagh on Facebook and Instagram @visitlisburncastlereagh and on Twitter @VisitLisburn.
Clients