Filter by Publication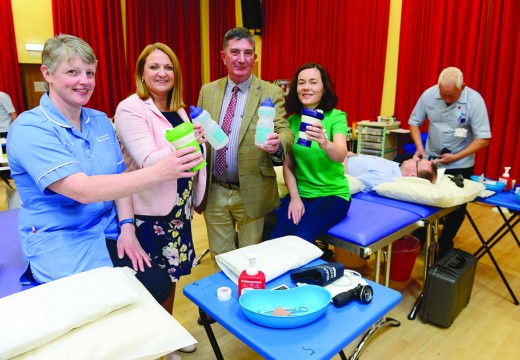 The NI Blood Transfusion Service, which collects, tests and distributes over 55,000 blood donations a year chose Lisburn to pilot its campaign to ask donors to bring a reusable bottle or cup to their donation session.
At its two donations sessions in St Patrick's Hall, Lisburn the NI Blood Transfusion Service had water refill points for those donors who brought reusable bottles or cups and recycling bins for those who brought single use plastics.
This life saving agency relies on the selfless generosity of others to donate blood which it then supplies to meet the needs of all hospitals and clinical units in Northern Ireland.  It embraced the opportunity to partner with Lisburn & Castlereagh City Council to also benefit the environment at its 800 donation sessions a year across Northern Ireland.
Alderman James Baird, Chairman of the council's Environmental Services Committee, calling into a blood donation session in Lisburn, said: "Those who donate blood care about others and it is very fitting that the Blood Transfusion Service should encourage them to also care about our environment.   There is rarely a week that goes by without reference being made to our planet, climate change and the amount of plastic in our oceans.  Through encouraging its donors to bring their own reusable bottle or cup is encouraging them to widen their responsible citizen remit and play a part in saving lives and our planet.
"I was delighted to see that those who donated in Lisburn had adhered to the request; and there were plenty of reusable bottles and cups visible at the donation sessions for refreshments after donating blood.  I wish the Blood Transfusion Service every success as it continues to roll this initiative out across all its donation locations.  May I also thank those who donated blood to save or enhance the lives of others."
Patricia Mackey, Nursing Manager from NI Blood Transfusion Service, added: "The Northern Ireland Blood Transfusion Service (NIBTS) is proud to announce the launch of our new single-use plastic reduction project in conjunction with Keep Northern Ireland Beautiful and Lisburn & Castlereagh City Council. Hydration, pre and post donation, is an important aspect of donor care and we thank our donors for getting involved with NI Water's #refillution campaign."
Either whole blood or separate blood components have many uses including: emergencies, transplant and burn surgeries and to provide help to patients at a high risk of bleeding.  There are also many people across Northern Ireland whose lives depend on regular blood donations to help them cope with a variety of other conditions.
If you want to donate blood please go to https://nibts.hscni.net/ and find the session closest to you. 
Clients