Filter by Publication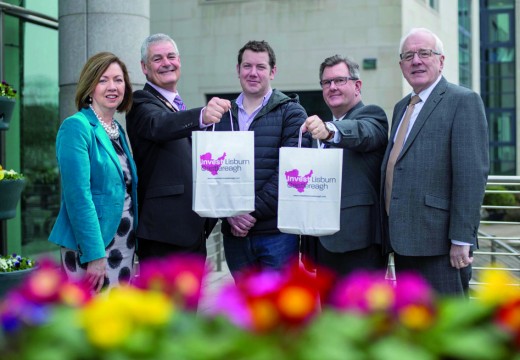 Launching Lisburn & Castlereagh City Council's most ambitious Investment Programme to date are Chief Executive, Dr Theresa Donaldson; The Mayor, Councillor Tim Morrow; Owen Scullion, Hilden Brewery; Lagan Valley MP, Sir Jeffrey Donaldson and the Chairman of the Council's Development Committee, Alderman Allan Ewart, MBE.
Lisburn & Castlereagh City Council will take London by storm when it travels to the City to undertake their most impressive programme of activity to date promoting the area to key decision makers and developers in a bid to crown Lisburn Castlereagh as Northern Ireland's 'Jewel of Opportunities'.
The five-day programme of activity (17th – 21st April) will commence with a 'Treasured Opportunities' investment dinner, hosted in partnership with Historic Royal Palaces – the charity responsible for the ongoing project to transform Hillsborough Castle into a major visitor attraction.  The dinner, at the stately surroundings of the Tower of London, will see the launch of the Council's ambitious 'Our Vision for Tourism 2018-2022' plan and the magnitude of the tourism potential of Hillsborough village will be revealed, due to the landmark transformation of Hillsborough Castle which hopes to attract 200,000 visitors per annum.
Chairman of the Council's Development Committee, Alderman Allan Ewart, MBE, explains the London programme of activity: "The Council is delighted to host our annual 'Invest Lisburn Castlereagh at Westminster' networking event, in partnership with Sir Jeffrey Donaldson on the 18th April.  This has proven year on year to be of considerable benefit to our local companies who use the opportunity to meet with potential customers and do business. This event is an excellent platform for Lisburn Castlereagh businesses and the Council to get in front of people looking to invest in our region.  We want investors and developers to be part of our growth and share in our success and I am delighted to be launching the Council's Pitch book at the event, highlighting the key investment sites right across our area."
The Council's Food and Drink Trade Programme, happening the same week, will also see local producers such as Carnbrooke Meats, Abernethy Butter and Hilden Brewery showcase their goods at the investment events, giving guests a taste of the region, as well as concluding the London Trade Mission by promoting and selling their produce at a speciality food market in London on the 21st April.
The Mayor, Councillor Tim Morrow, will join the delegation in London to fly the flag for Lisburn Castlereagh.  He said: "The GB market is crucial to our local businesses and it is through events such as the ones being held in London we are opening doors for further trade.  We are fortunate to have a vibrant business and manufacturing base but we want more.  We want more businesses to set up here, more businesses to relocate and more trade for those already here."
Chief Executive of the Council, Dr Theresa Donaldson, says Lisburn Castlereagh has so much to offer: "We work closely with our local business base in assisting them to improve their profile, increase their business and ultimately contribute to the growth of our local economy. This investment activity in London demonstrates the big vision we have to be Northern Ireland's 'Jewel of Opportunities'.  I believe that the profile we have created on a local, region and indeed national level makes us stand out as a great place to do business and to invest in."
If you are a business based in the Lisburn & Castlereagh City Council area and would like to join the Council at the 'Invest Lisburn Castlereagh at Westminster' networking event (18th April 4-6pm) please visit http://www.catalina-consulting.com/lcccevents/  or email:  LCCCevents@catalina-consulting.com
Clients