Filter by Publication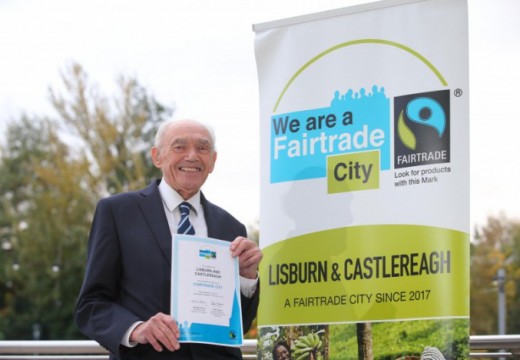 Lisburn & Castlereagh City Council is delighted to have its Fairtrade City status renewed and thanks all its residents, schools, businesses and churches for their support.
Alderman Jim Dillon MBE, Development Committee Chairman, speaking about this accreditation said: "In 2020, a difficult year for everyone we were pleased to have successfully had our Fairtrade City status renewed in December following our application.  Over the last two years we have been working across our communities to promote the importance of Fairtrade values.  We have seen an increased number of schools, businesses and churches offer Fairtrade refreshments for pupils, staff and customers.
"I would like to thank all the schools who took part in our school events during Fairtrade Fortnight in 2019 and 2020.  Our young people are the next generation and they embraced the opportunity to hear from Fairtrade producers about how they can help them enjoy secure and sustainable livelihoods.  By purchasing Fairtrade products, we enable these producers to undertake vital business, environmental and social projects in their own communities.
"As our Fairtrade Steering Group meets remotely we have to consider what is possible during the pandemic to promote the important message of supporting Fairtrade across the Lisburn Castlereagh area.  This will be the start of activities over the next two years to gain further support for Fairtrade and meet the requirements for our next assessment as a Fairtrade area."
If you want to get involved in promoting or supporting the Fairtrade message please email sarah.mckenna@lisburncastlereagh.gov.u
Clients