Filter by Publication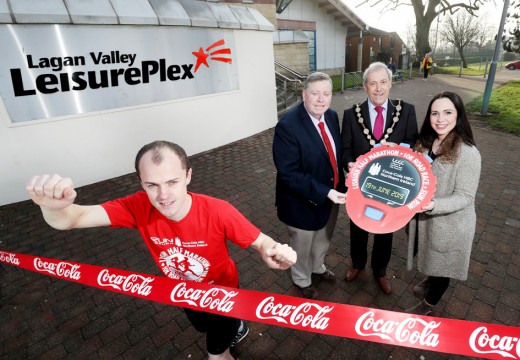 The Mayor of Lisburn & Castlereagh City Council, Councillor Uel Mackin and the Chairman of the Leisure & Community Development Committee, Alderman Paul Porter alongside Zoe Cunningham, Community Affairs Manager for Coca-Cola HBC Northern Ireland launch the 37thCoca-Cola HBC Lisburn Half Marathon, 10K Road Race and Fun Run with the 2018 10K Road Race winner, Chris Madden 
Lisburn & Castlereagh City Council is delighted to open entries for the popular Lisburn Coca-Cola HBC Half Marathon, 10K Road Race and Fun Run. The event will take place on Wednesday 19th June from Lagan Valley LeisurePlex, Lisburn.
Supported by title sponsor, Coca-Cola HBC Northern Ireland, the event is expected to attract more than 6,500 runners in what will be one of Northern Ireland's largest sporting participatory events.
The Half Marathon & 10K Road Race is renowned for being 'Flat & Fast' making it the ideal route for competitive runners aiming for Personal Bests or beginners looking to take on a new challenge. The Fun Run is the perfect race for anyone wishing to run with family and friends and experience a little fun while getting active!  All events are inclusive and are open to wheelchair and hand cycle participants.
Speaking at the launch of the event, the Mayor of Lisburn & Castlereagh City Council, Councillor Uel Mackin said: "The Council has a proud history of hosting high profile sporting competitions across the City and the Lisburn Coca-Cola HBC Half Marathon, 10K Road Race and Fun Run is one of the most popular events in the calendar with over 6,500 participants expected to take to the start line at Lagan Valley LeisurePlex.
"I would warmly encourage everyone to sign up for the event, whether they are an experienced runner looking to beat their Personal Best or they are just new to running and would like to challenge themselves to run a longer distance. I would also encourage families, schools and youth groups to register for the fun run to come along and soak up the incredible atmosphere the event has to offer."
"Finally I would like to extend my gratitude to our event sponsors, Coca-Cola HBC Northern Ireland and Trust Ford for their support and I am confident that this year's event will be bigger and better."
Chairman of the Leisure and Community Development Committee, Alderman Paul Porter added: "I am delighted to be involved in the launch of the 37th Lisburn Coca-Cola HBC Half Marathon, 10K Road Race and Fun Run. For nearly four decades, the event has inspired both adults and children to get active in a competitive, but fun setting. Runners have even travelled across the globe to participate in the event, with one runner travelling from Australia in 2018, which highlights the calibre of the event in the running calendar.
"Running has become more popular over the last number of years, especially with the introduction of the Couch to 5K programme and the success of the junior parkrun across the Council area. There are also many local running clubs as well as recreational runners who enjoy the challenge of beating their personal best time.  I have no doubt that this year's event will continue to grow in popularity as more people strive to be active and stay active in the pursuit of a healthier lifestyle.
"I would like to take this opportunity to encourage both competitive runners and fun runners to sign up for the event and wish everyone the very best with their training.  I look forward to seeing you all at the start line on 19th June 2019," concluded the Chairman.
Zoe Cunningham, Community Affairs Manager for Coca-Cola HBC Northern Ireland said, "As a local company with a long-standing heritage here in Lisburn, we are delighted to support the Lisburn Half Marathon, 10K and Fun Run once again this year.
"This event shares our passion for fostering great community spirit, while also raising much needed funds for local charities.
"We would like to wish participants and organisers the very best of luck with, what will undoubtedly be, another superb event."
Printed application forms will be available from Lisburn & Castlereagh City Council leisure and community facilities, local sports shops and other outlets across the City.
To register to participate in the Half Marathon, 10K Road Race and Fun Run or for further information, please visit www.lisburnhalfmarathon.com or call 028 9250 9556. Details can also be found on the Council's Sports Development Facebook page, 'Be Active, Stay Active Lisburn Castlereagh.
Clients