Filter by Publication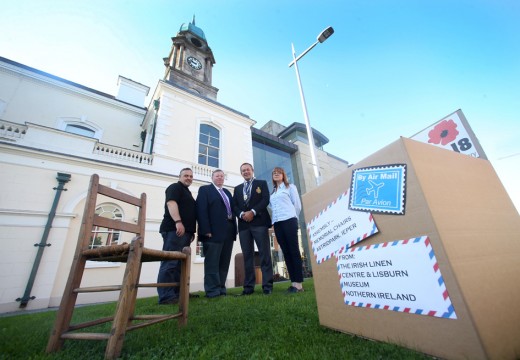 Pictured are Philip Simpson, Gallery Assistant; Alderman Paul Porter, Chairman of the Council's Leisure & Community Development Committee; Raymond Corbett, Presdient of the Lisburn Branch of the Royal British Legion and Gillian Topping, Assistant Education Officer.
On behalf of Lisburn & Castlereagh City Council the Irish Linen Centre & Lisburn Museum will mark Ireland's contribution to the Great War by collaborating in a special project with In Flanders Fields Museum, Ypres, Belgium.  The museum was specially invited to donate a chair from its collection to sit alongside chairs from 120 other nations who lost men and women in Belgium during the Great War (1914-18) in a major art installation in Ypres. As part of the centenary of the Armistice, or the end of the war, in November 2018 the chairs will be installed in Astrid Park, in the shadow of Ypres famous cloth hall, as part of lantern-lit vigil in memory of the war dead. 
Alderman Paul Porter, Chair of Lisburn & Castlereagh City Council's Leisure and Community Development Committee, commented that "it was a privilege that Lisburn should be chosen to represent the nearly 50,000 individuals from across the island of Ireland who lost their lives in the Great War."  In thanking the museum for its work over the last four years in telling the story of Lisburn and the First World War through its exhibition and education programme, Chairman Porter added that "the war had a huge impact on Lisburn, with nearly 1000 men and women perishing in the conflict" and "it was important that their sacrifice was remembered."
Raymond Corbett, President of the Lisburn Branch of the British Legion, commented that it was "wonderful to see a simple chair from Lisburn included in this international display in Ypres".   
'Memorial Chairs' is on display in Ypres until 11th November 2018.  To learn more about Lisburn and the Great War visit the Irish Linen Centre & Lisburn Museum's hugely popular WWI exhibition.  For details visit https://www.lisburnmuseum.com
Clients