Filter by Publication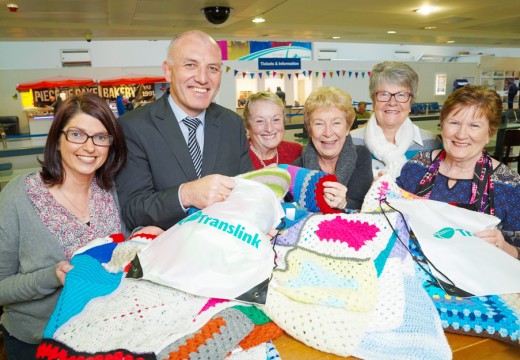 Ian Campbell, Translink's Director of Service Operations (acting) with ladies from the East Belfast Pod and Drumbo Arts and Crafts Group 
Translink has helped out East Belfast Pod, a local charity who make blankets for the homeless, with a donation of 100 branded sports bags.
The Pod works alongside the ladies of Drumbo Arts and Crafts Group, based near Lisburn, to fashion the blankets, which are much needed as we head into the winter.
Individually knitted and crocheted squares are sewn together to become part of warm winter blankets which are distributed to the homeless community via the Salvation Army and Belfast Welcome Centre.
Translink's Director of Service Operations (acting), Ian Campbell said: ''Translink was delighted to be able to help with this donation of our popular sports bags, and it's good to see them being put to practical use to help the homeless community in Belfast and further afield.  We are glad to support the great work of both the East Belfast Pod and Drumbo Arts and Crafts Group in this way.''
Clients