Filter by Publication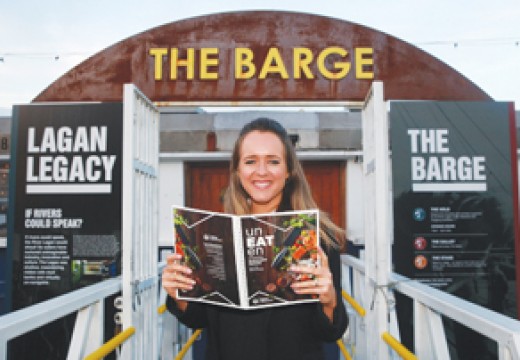 Chefs from some of Belfast's top restaurants and hotels have contributed to a new free recipe book as part of Belfast City Council's Recycle Week programme.
The un-EAT-en cookbook includes a range of tasty dishes that have been created to reduce food waste, and can be whipped up using simple ingredients that won't break the bank.
From pan roast salmon and chicken soup, seasonal pasta dishes and peanut butter and jam bread pudding, there is something to inspire everyone, regardless of your culinary expertise.
The recipes have been donated by chefs from Home, Shu, Coco, James Street South and Ginger Bistro, and The Merchant and Grand Central Hotel.
Councillor Kate Nicholl, chair of Belfast City Council's People and Communities Committee, attended last night's book launch on the Belfast Barge.
She said: "Food waste is still a big challenge for households. It's estimated that we bin around £13 billion worth of food each year – that's 4.4 million tonnes of food. We're all guilty of buying too much and having to throw out food because it is past its best. As well as including sustainable recipe ideas, the book has top tips on reducing food waste and advice for freezing food – something that people are often unsure about.
"I'm delighted that some of the city's top chefs have got behind this initiative to share their expertise and knowledge, and I'd like to thank them for sharing some of their culinary secrets with us. Now we can all have a go at rustling up a restaurant-worthy meal at home."

Belfast City Council has a no food waste in black bins policy, and households across Belfast have had a dedicated food waste recycling collection for nine years.
Councillor Nicholl said: "We're currently carrying out a consultation on how we, as a city, manage our waste. Change to our current collection systems are needed if the Council is to meet its target of increasing the city's recycling rate to 50% by December 2020.
"We have done well to raise our recycling rate over the past 10 years to around 44%, however, we have now reached a plateau. Providing recycling and waste collection for residents is one of Council's most critical services so it's important for us to get it right."
Belfast City Council's consultation on waste collection closes on October 7. You can share your views here: www.belfastcity.gov.uk/consultations
Susan Doherty, General Manager of the Belfast Barge says: "Historically, we had a fabulous tradition of using up leftovers – this is how our local specialities of potato bread and boxty came about - but as we became wealthier as a society, the practice of using up leftovers went out of fashion.
"Here in Belfast, we've been quietly going through something of a revolution. Over the last decade, Belfast has become one of the best cities to eat out in, boasting Michelin star and award-winning restaurants; and much of that success has been down to chefs returning to locally-sourced, high quality ingredients on their menus. This has helped transform the city into something of a foodie destination."
The limited edition recipe book can be downloaded from the Council website www.belfastcity.gov.uk/uneaten
Clients