Filter by Publication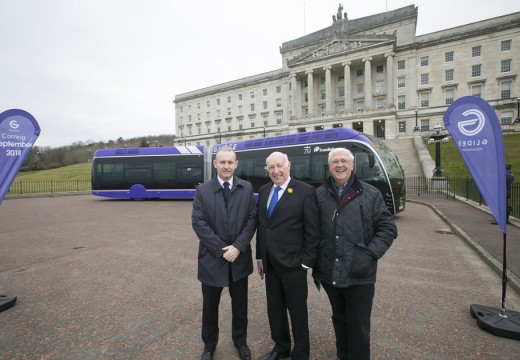 With under 5 months to go until Glider, Belfast's new mode of transport, goes live, Translink is stepping up engagement with customers in order to raise awareness of this innovative and iconic new service which will transform public transport in Belfast.
The service will go live across the city on Monday 3 September, and will represent a new, effortless and smooth way to travel, operating on an east-west route across the city, with a separate service from the city centre to Titanic Quarter.
A wide itinerary of Glider events is underway across Belfast, and one of the distinctive Glider vehicles has been spending time at Stormont, giving staff, Assembly members and others an exclusive glimpse of how Translink is gliding to success!
A stakeholder engagement event at Parliament Buildings attracted a cross-party attendee list of MLAs, as well as a range of other guests from organisations as diverse as BT and the Belfast Health and Social Care Trust. Visitors took the opportunity to board one of the new vehicles and find out more about the many features of the service. 
Robin Totten, Glider Senior Programme Manager, said: ''We have been engaging with a wide range of stakeholders about the Glider and we've been very encouraged by the positive response from customers, with genuine interest and excitement in this innovative new mode of travel.  We were very keen to host a stakeholder engagement session at Stormont in order to give elected representatives and other key stakeholders, such as business and consumer representatives, an opportunity to see the Glider for themselves and learn more about it. We were delighted by the very positive and enthusiastic response.  The event was a joint initiative with the Department for Infrastructure in order to promote the wider use of sustainable travel.
''Translink, alongside Departmental colleagues, will continue, over the coming weeks and months, to give the wider community an opportunity to get to know more about the Glider before its launch in September.
''Representing a total investment of around £90m, Glider is a key Programme for Government priority.  The service will introduce positive benefits, including a new off-vehicle ticketing system, service frequency of around 7-8 minutes, and improved connectivity. The unique style of the 30 new eco-hybrid Glider vehicles will bring a whole new level of transport experience to the city streets. 
''It's clear from the engagement to date that Belfast is excited about Glider – it is a completely new service for Belfast, a modern, vibrant public transport system for a confident, forward looking city and a real vote of confidence in Belfast's future. It also represents another milestone in our journey to making public transport your first choice for travel in Northern Ireland.''
Details of forthcoming engagement events, as well as additional information on the Glider itself, will be published on the Translink webpage at www.translink.co.uk/gliderbelfast/
Clients