Filter by Publication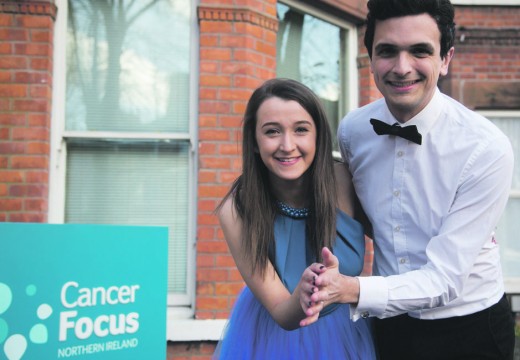 Cancer Focus NI is calling all sofa-critics to sign up to their special Strictly fundraisers!
Cancer Focus Northern Ireland has teamed up with Ballroom Blitz NI to host its very own Strictly Come Dancing event, based on the hit TV show, to raise vital funds for local children affected by cancer.
Cancer Focus NI is looking for 20 toe-tappers to quit being sofa critics and put their dancing shoes on. No previous experience is needed - you'll be taught how to strut your stuff by professional ballroom dance teachers from Ballroom Blitz NI.
You can sign up on your own or with a friend to try out the classic ballroom dances you've seen on your screens.
There are two upcoming shows to apply for, each with their own training timetable. You can sign up for Strictly at the Movies, finishing with an Oscar worthy grand finale on 10th November. Or, if you're feeling festive, you can sign up for the Strictly Christmas Special finishing on 7th December. Training for both events is due to take place in Cregagh Youth and Community Centre with the final show for Strictly at the Movies set for the Stormont Hotel.
Tickets for both finales will be available for friends, family and the public.
Suzie Colledge, Community Fundraising Officer, Cancer Focus NI said: "We are so excited to launch the recruitment for our Strictly Come Dancing fundraising event. For anyone who has imagined themselves taking to the ballroom floor like the stars of Strictly Come Dancing, this is an amazing opportunity to make that dream come true!
"Even if you've never danced in your life, it's a great chance to learn something new and have a fab-u-lusss time while raising money for local children affected by cancer. Sign up is only £30 to secure your place and we request a minimum of £250 to be raised through fundraising by each dancer.
"All the money raised will go towards our family support service, which carries out important work with families when a mum, dad or grandparent has cancer."
"Anyone who fancies getting involved should contact us as places for Strictly Come Dancing are strictly limited!"
Anyone who would like to sign up or who wants more information can contact fundraising@cancerfocusni.org.
If you have concerns about cancer, speak to a specialist nurse on the Cancer Focus NI free Nurseline, 0800 783 3339.
One in two of us will be diagnosed with cancer in our lifetimes. Now more than ever, we need you to get involved and help support local people affected by cancer.
We need to raise almost £4million each year to fund our life-changing services and we rely primarily on your generosity to help us to continue this vital work in the community. Whether you want to take part in an event, organise your own fundraiser, make a donation or volunteer your time, there are lots of ways that you can get involved and help fundraise for Cancer Focus NI.
These include fundraising in your local groups, community, schools, clubs or societies, through your work or by taking up a challenge such as a marathon or a skydive.
Whether you're into adrenaline sports, travelling, running or simply socialising with your friends and family, Cancer Focus NI has the perfect fundraising event for you. We've something to suit everyone, young and old, from challenge and overseas events, to sponsored walks and bun sales. Get involved in any of our events and you're guaranteed to be a part of something special.
Clients