Filter by Publication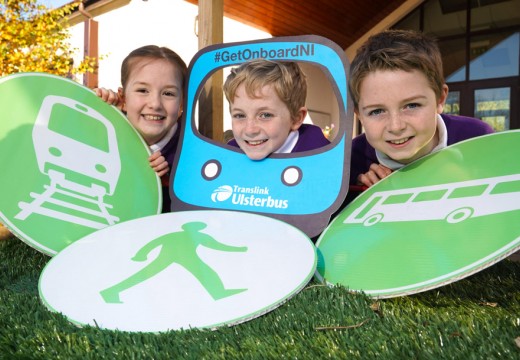 Pictured launching the 2019 Translink Travel Challenge are pupils from Loughview Integrated Primary School in Belfast; from left; Martha Odling-Smee, Aaron Morgan and Joshua McDowell.
Schools across east and south Belfast are being invited to join the Translink Eco Schools Travel Challenge to cut down on car congestion around school gates and boost pupil health and wellbeing.
The two-week challenge promotes walking, cycling, bus and train travel for the school run instead of car use.
It incorporates curriculum-linked resources and encourages schools to develop sustainable travel plans as a way to achieve the prestigious Eco-Schools Green Flag Award.
Since its launch in 2008, over 300,000 sustainable journeys have been made during the challenge, helping to protect the environment and reduce pollution.
This year, in recognition of growing concerns regarding air pollution and subsequent health problems, Translink will pilot an exciting new initiative supporting a local school to monitor air quality on school grounds.
Chris Conway, Translink Group Chief Executive, said: "With government targets to reduce greenhouse gas emissions to zero by 2050 and air pollution identified as the top environmental risk to human health in the UK, we all have a responsibility to take steps to address this serious issue.
"As a public transport operator we're committed to playing our part in cutting car dependency and investing in ultra-low or zero emission vehicles.
"This partnership is an example of our efforts to encourage young people to adopt sustainable travel habits and we hope local schools will sign-up to the challenge!"
Ian Humphreys, Keep Northern Ireland Beautiful CEO, said: "We are delighted to be supported by Translink in the Eco-Schools transport topic and to once again promote the Translink Travel Challenge.
"We have seen an increase in the number of pupils taking part over the years which is a reflection of their desire to protect the environment and enjoy a healthy journey to school. We are asking teachers and parents to support our young enthusiasts to get involved and make more everyday journeys in a sustainable way!"
Deadline for completed Translink Eco-Schools Travel Challenge entries is Tuesday 19th May 2020. For further information, click www.translink.co.uk/ecoschools or contact the Eco-Schools team on 028 9073 6920.
Clients