Filter by Publication
POWER OF EASTSIDE AWARDS IMPACT CONTINUES ACROSS THE COMMUNITY AS THE FOURTH ANNUAL AWARDS LAUNCHES
November 2019 - The East Side Advertiser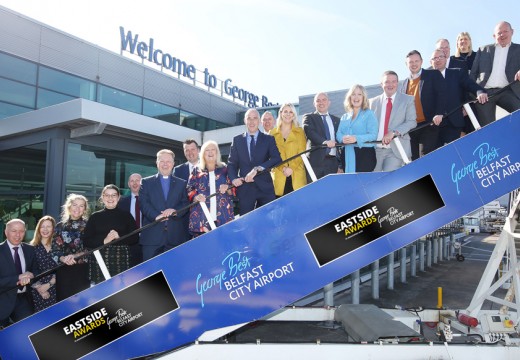 Sponsors of the fourth annual Eastside Awards gather at George Best Belfast City Airport to launch this year's competition. 
The fourth annual Eastside Awards has officially launched and its impact is already being felt across the entirety of East Belfast.
The Eastside Awards, which is run in partnership with George Best Belfast City Airport, is open for entry until 25th October. These non-profit awards will celebrate the achievements of the businesses and people at the very heart of East Belfast.
The organising committee are proud to have added four new categories recognising the carers who are vital to our community, our ever growing health and wellness sector, the community champion in our midst and the best taste experience in what is a thriving East Belfast food scene.
Jonathan McAlpin of East Belfast Enterprise was behind the original Eastside Awards concept and is Chair of the organising committee. Launching the fourth annual Eastside Awards, Jonathan said: "I'm immensely proud of the impact that the Eastside Awards has achieved across the greater East Belfast community in four short years. I'm honoured to be involved in recognising everything that is the best about East Belfast. From celebrating the achievements of our young people to those who are contributing to the economic impact of the area, to inspirational residents who volunteer their time to helping others and those who entertain or who are committed to our next generation.
"Last year we had a record number of entries and the Stormont Hotel was at capacity for our awards ceremony and I know that with momentum building and new categories added, this year will be another record breaking year for the Eastside Awards."
Michelle Hatfield, Director of Corporate Services at George Best Belfast City Airport, said: "East Belfast is a hotbed of cultural, sporting and economic success made possible by the amazing people that call this great place home, or come to work or play in its surrounds.
"George Best Belfast City Airport is once again privileged to be the principal partner of the Eastside Awards. These awards recognise and showcase local businesses and individuals who enrich and support East Belfast, helping to build a bigger and stronger community, a community that we are proud to be in the heart of.
"Our continued association with the Eastside Awards is an important element of our Corporate Social Responsibility strategy, which places our community, its education, environment and young people at the core of our business.
"I would encourage the people of East Belfast to support the Eastside Awards so together we can celebrate our local success."
East Belfast TV presenter Tara Mills will host the awards at an evening of celebration on Friday 24 January 2020 in Hastings Stormont Hotel and, on arrival at the awards ceremony, finalists of the 2020 Eastside Awards will be treated to a VIP drinks reception courtesy of The Waterside Belfast. The evening's entertainment and souvenir awards brochure will be sponsored by The Open University.
To enter Eastside Awards in association with George Best Belfast City Airport by 25th October, visit www.eastsideawards.org.
Clients